Emerald Waterways cruise review:
Nuremberg-Trier
Page 5
Continued from page 4

ABOVE: A panoramic view of Emerald Star's Reflections Restaurant. (Click here and maximize your browser window for a larger image.)
---
Dining and lounges
Reflections Restaurant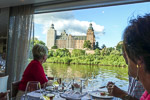 Breakfast, lunch, and dinner are served in the Reflections Restaurant, located forward on the Vista (middle) deck. The restaurant has an "open seating" policy, although many passengers gravitate to their favorite tables or areas after a day or two of cruising.
Emerald's ships have an unusually large number of tables for two (located next to the windows), with tables for four alongside. Larger tables are available for groups and compulsive socializers.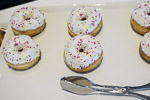 Breakfast in the restaurant is a buffet, with an omelette station for people who like their eggs cooked to order. Pretty much anything you'd want is available, from breads, pastries, cereals, and fruit to smoked salmon, mackerel, two kinds of bacon, and even a choice of peanut butter or Vegemite.
Coffee and tea are served by waiters. Hot chocolate is available only in the lounge (unless a waiter takes pity on a crestfallen guest and fetches a cup from upstairs, as a waiter did when Cheryl asked for it on the second morning of our cruise).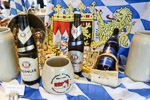 Lunch is also a buffet, with a daily soup, an array of salads, cold cuts, cheeses, hot dishes, and desserts. The meal sometimes has a special theme, such as a "Bavarian Lunch" with assorted Teutonic specialties.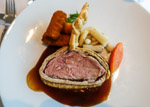 Dinner is a sit-down affair, with four courses. At a typical dinner, the menu offers two appetizers, a soup of the day, three main courses (including a vegetarian option), and four desserts, with coffee or tea afterwards.
On days when you prefer comfort food, you can choose from an "Emerald's Classics" alternative menu (usually chicken bouillon, Caesar salad, rump steak, poached salmon, or grilled chicken breast).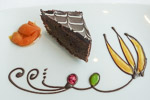 Overall, we'd rate Emerald Star's food good to excellent, and we appreciated local touches such as German rye breads and seeded rolls at the buffet and Bitburger beer ("Bitte, ein Bit!") on tap. If we had one suggestion, it would be to provide more chocolate desserts and fewer puddings and cream cakes (the latter possibly a reflection of Emerald's Australian origins).
Horizon Lounge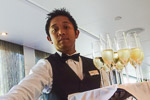 The Horizon Lounge, one deck up from the restaurant, is the social center of Emerald Star. It's a large, glass-walled room with plenty of contemporary-styled sofas, chairs, and hassocks for chatting, reading, port talks, captain's receptions, entertainment, and special events (such as glassblowing and Strudel-making demonstrations during our cruise).
A hardworking team of bar servers dispense beer, wine, and other alcoholic drinks at shoreside prices, although there's no pressure to order.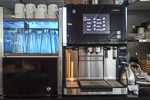 The lounge also has a self-service beverage station with a machine that dispenses espresso, capuccino, mochaccino, hot chocolate, and hot water for a selection of teas.
(We sampled the marble shortbread cookies in the beverage station's cookie jar, which were made by the ship's own pastry chef.)
A light breakfast and buffet lunch are available in the Horizon Lounge. The lounge also serves afternoon tea and late-night snacks.
Note: During some cruises, Emerald Waterways serves a barbecue on the Sun Deck at least once during the voyage. This didn't happen on our cruise, probably because the Sun Deck was often closed due to low bridges.
The Terrace

ABOVE: Click here and maximize your browser window for a larger panoramic image of The Terrace.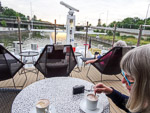 This open-air bow seating and eating area is directly in front of the Horizon Lounge. Electric doors make it easy to carry a drink or meal onto the Terrace, as we often did during our cruise. We especially liked sitting on the Terrace after dinner when Emerald Star was cruising on the river and passing through locks.
We expected The Terrace to be more crowded--it was our favorite spot on the ship, other than our cabin--but we always had a choice of tables or lounge chairs.
Pool Bar

Emerald Star's Pool Bar is located aft on the Horizon Deck, next to to the swimming pool.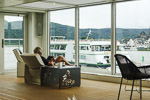 On some evenings, the pool is covered and used as a cinema. At other times, you can grab a comfortable chair for reading or sightseeing and (if you wish) order a drink from the bar. Even when the bar isn't open, you can get hot drinks from a self-service coffee and tea machine.
Next page: Other amenities
---
---
---