La Bella Vita Barge Cruise Photos
From: La Bella Vita Barge Cruise Review
Day 1: Venice (moored at Riva di San Biagio)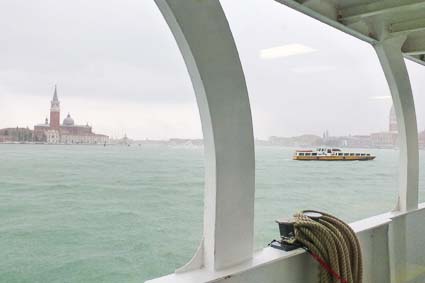 The view from our mooring was spectacular. This photo shows San Giorgio Maggiore on the left and an Alilaguna airport boat arriving at a waterbus stop near La Bella Vita, with the Campanile di San Marco and the Grand Canal in the background.
---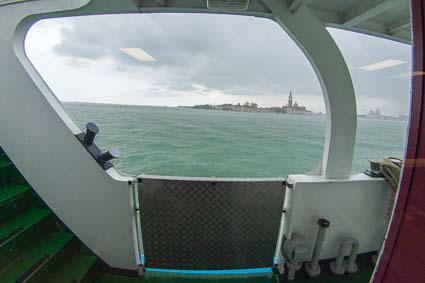 Here, a fisheye shot from the side deck of La Bella Vita makes the island church of San Giorgio Maggiore look farther away than it was.
---

As soon as La Bella Vita was tied up, we stepped off the barge and onto the Riva di San Biagio.
---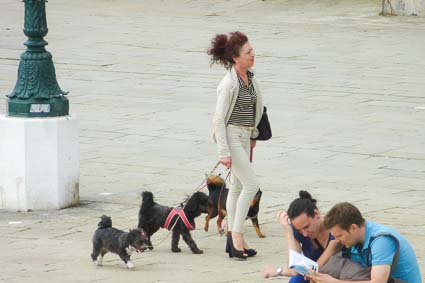 The waterfront promenade was alive with activity--and with dogs.
---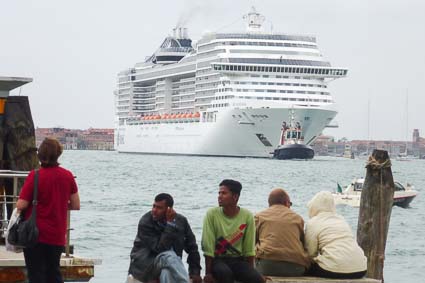 While we watched from shore, a megaship--MSC Fantasia--cruised through St. Mark's Basin on its way to the Adriatic.
---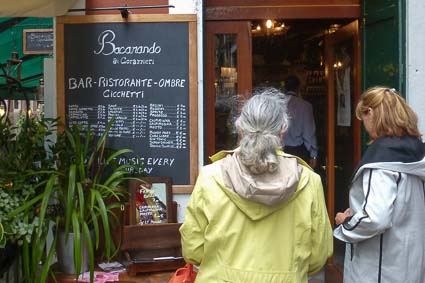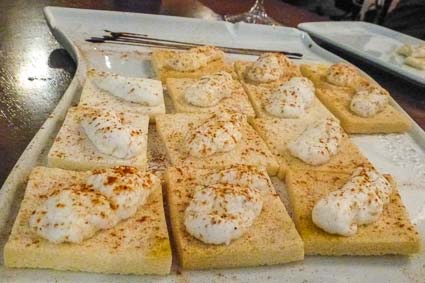 Later, following an afternoon walk in the Castello district, La Bella Vita's tour leader--Paola Salvato--took us to the Bacarando Ai Corazzieri for drinks and a classic Venetian appetizer of baccalà on toast.

---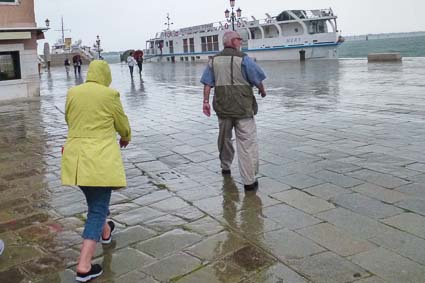 It began to rain as we returned to La Bella Vita. Right after this photo was taken, Captain Rudy saw us coming and came running toward us with umbrellas.
---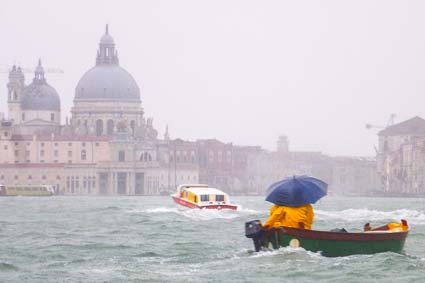 Back on the barge, we retreated to our stateroom, where Cheryl took this impressionistic rainy-day snapshot through the window. You can see the Basilica of Santa Maria della Salute, an ambulance, and a waterproofed Venetian in an open boat.
---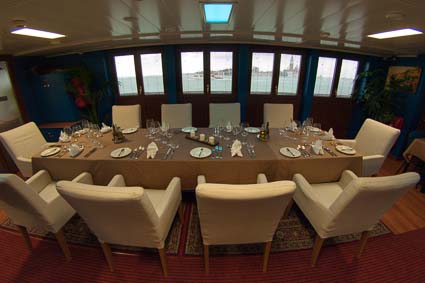 We soon finished unpacking and went upstairs, where the dining room had been prepared for dinner.
---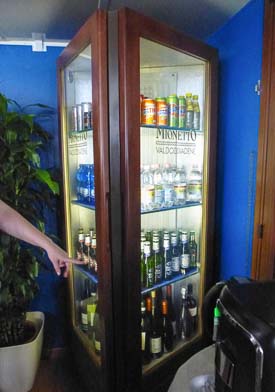 In one corner of the dining room, a refrigerator case offered natural and fizzy mineral water, beer, wine, and soft drinks. A self-serve espresso machine and electric kettle were nearby.
---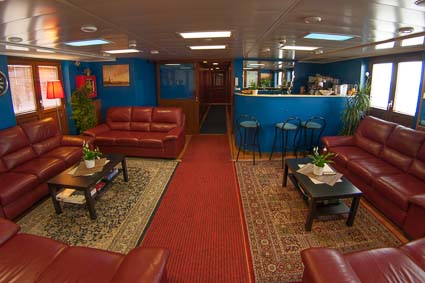 The adjacent saloon, or lounge, was equipped with leather sofas, a small library and games collection, and a bar where our hostess, Ivana Veic, performed barista duties with a selection of wines, spirits, mixed drinks, and an espresso machine.
---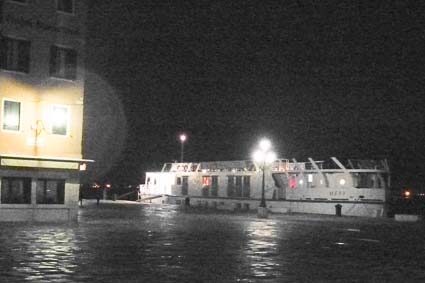 Later, after dinner, we went ashore for a long walk in Venice's quiet back streets. Captain Rudy Toninato and Roger Pagnin, the ship's engineer, waited until we got back to haul up the gangway for the night.
---
---
---