River Baroness Cruise Photos
From: Uniworld River Baroness cruise review
Day 2: Les Andelys and River Seine (2)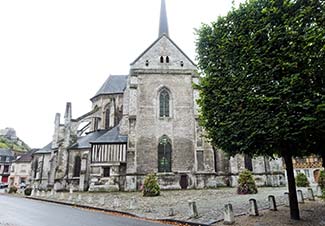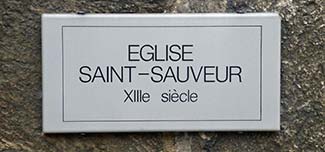 Our walking tour ended at the Church of Saint-Saveur in Petit-Andelys. (The church was locked, so we couldn't see the interior.)
---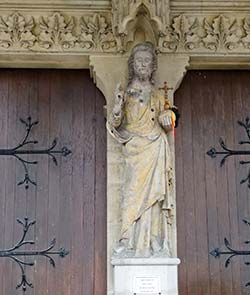 Construction of St-Saveur began in 1198, and some elements of the present-day church--such as the statue of Christ between the entrance doors--date back to the 13th Century.
---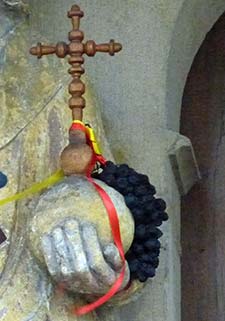 The bunch of grapes on Christ's arm commemorates the wine production that once took place in Les Andelys.

---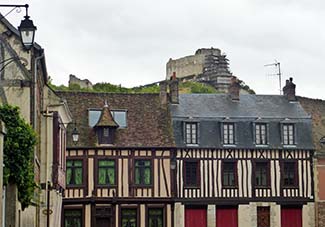 After the walking tour, we explored the village center of Peti-Andelys on our own. In this photo, you can see a few of the village's many half-timbered buildings. (Chateau Gaillard is visible on the hilltop above the grey roof.)
---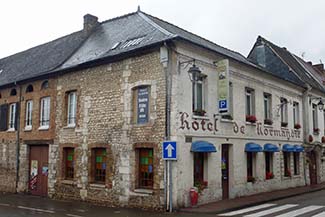 The 18th Century Hotel de Normandie, once a post house, is now the B&B Villa Alienor. (For other hotels in and around Les Andelys, see this page.)
---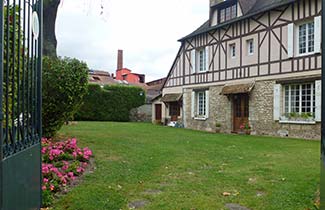 As we walked around Petit-Andelys, we peeked through an open gate to admire this impressive house and its back yard.
---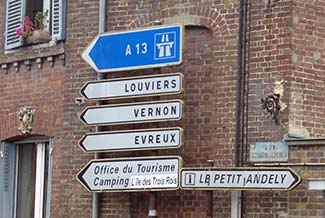 Directional signs in the downtown Petit-Andelys pointed to the tourist office, the nearest motorway, and nearby towns.
---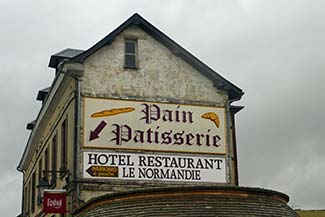 Another sign identified one of the two bakeries in Les Andelys.
---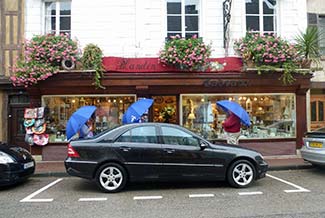 The village had several attractive gift shops and art galleries. The shops attracted umbrella-toting guests from River Baroness and another vessel that had moored after our ship's arrival in Les Andelys.
---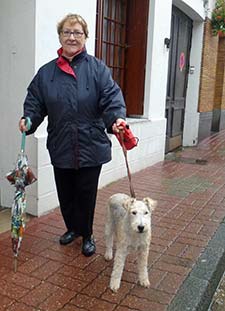 Many years earlier, we'd visited Normandy with Yodel, our Wire-Haired Fox Terrier, so we couldn't resist photographing this alert-looking dog and its owner.
---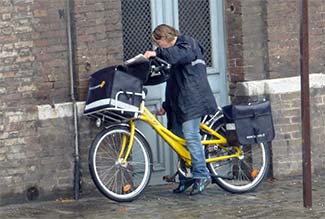 Across the street, a postal carrier was making her rounds by bicycle.
---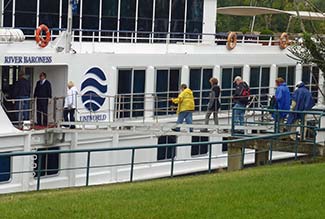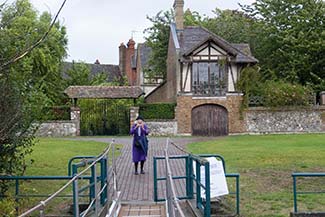 Our "all aboard" time was 12:30 p.m., so we reluctantly followed the handful of other River Baroness passengers who were walking back to the ship.
---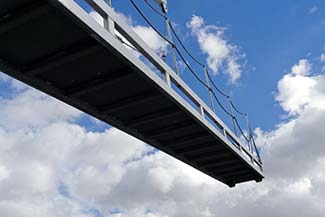 Soon, the gangway was lifted on board.
---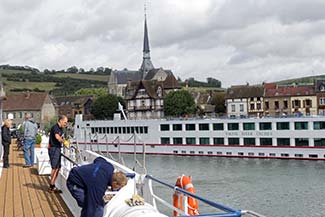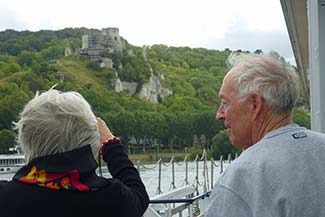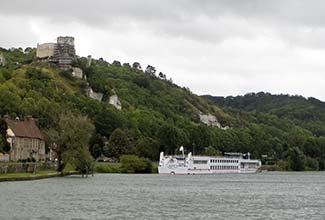 River Baroness departed for Rouen at 1 p.m., leaving Les Andelys and Chateau Gaillard behind.

---
---
---
---