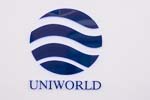 On our Venice for Visitors site, we've recommended roundtrip cruises from Venice for years. Venice isn't just one of the most popular cruise ports in the Mediterranean, it's also a city that ranks high on many travelers' bucket lists.
So, when we had the chance to review a roundtrip cruise from Venice on Uniworld's River Countess, we happily seized the opportunity. (We'd been impressed by a Seine River cruise from Paris on another Uniworld ship, River Baroness, so we figured that a week aboard River Countess would be just as satisfying.)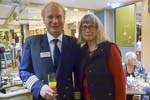 We booked the final River Countess cruise of 2014, with a November 2nd departure. We knew the weather in November could be gloomy and rainy, but we didn't let that discourage us, and we were pleased to find that we weren't alone: Our end-of-the-season voyage had 74 passengers, including a young schoolgirl, several couples in their 30s, middle-aged singles and couples, and retirees.
In this 10-page illustrated review, we'll describe our cruise with River Countess and shore excursions in Venice, the Venetian Lagoon, and Northern Italy.
We also suggest browsing our River Countess day-by-day photo diary, which shows the ship and the places that we visited during our eight-day, seven-night cruise.
Next page: River Countess: the ship
---
---
---
---