River Baroness Cruise Photos
From: Uniworld River Baroness cruise review
Day 2 - Les Andelys and River Seine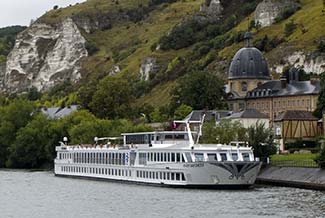 Day 2 began with the ship's arrival in Les Andelys at 7.am. Les Andelys is a small town in Haute-Normandie that consists of two villages: Grand-Andeley and Petit-Andeley, the older and more scenic part of town. River Baroness was moored in Petit-Andeley, about a two-minute walk from the village center.
---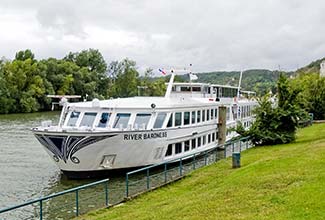 After breakfast, we braved the rain to take a photo of River Baroness and Petit-Andeley's riverside park.
---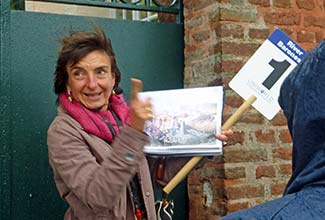 In mid-morning, the ship's passengers were divided into several groups for walking tours to the Château Gaillard, a ruined hilltop fortress that was built for Richard the Lionheart in just two years: from 1197 to 1198. (Passengers who wouldn't or couldn't walk could ride by bus to a vantage point for a closer look at the ruins.)

---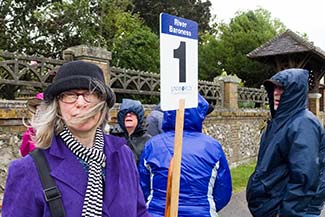 Cheryl's honest face earned her the privilege of holding our group's sign while the tour guide rounded up stragglers.
---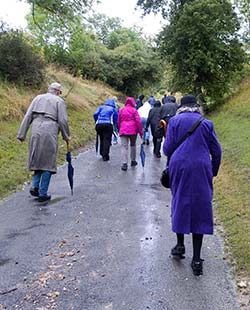 Soon, we were walking uphill to the castle. The paved road had very little traffic, and walking was easy except for a short, rocky path near the ruins that could have been tricky for anyone foolish enough to wear heels or slippery-soled shoes.
---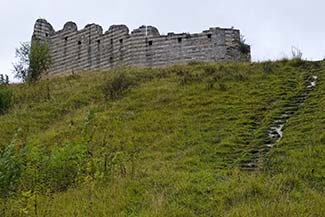 We were pleasantly surprised by the pluckiness of our fellow hikers: Most of our companions were older than we were (some appeared to be in their mid-70s), but no one complained about the hike to the ruined fortress.
---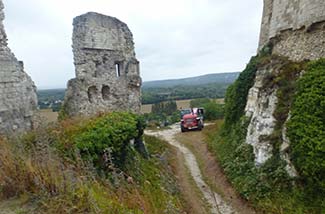 As we approached the top of the hill, we could see that the castle had enjoyed better days. (The site was undergoing repairs during our visit, and some areas were closed off to visitors.)
The current maintenance is intended to preserve what's left of the Château Gaillard. No attempts are being made to restore or rebuild the fortress, which has been in ruins since the 1500s and was declared a national monument in 1862.
---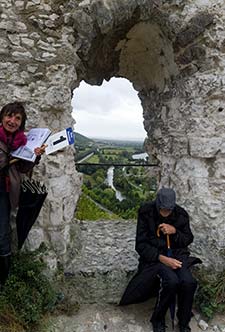 It was cold and windy at the summit of the hill, so we used the ruins as a windbreak while our guide recounted the Château's history.
---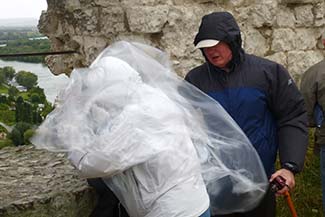 A passenger in a plastic cape looked almost ghostly as her rainwear was buffeted by the wind.
---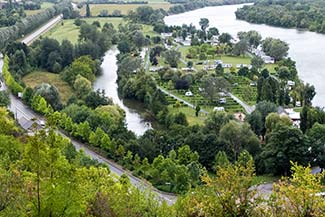 From the ruins, we had a spectacular view of the land below and the Seine.
---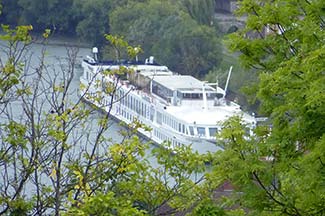 Despite the wind, we managed to hold our camera still long enough to grab a picture of River Baroness from the hillside during the walk down to Petit-Andeley.
---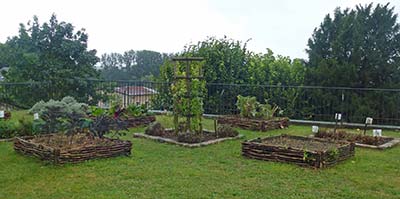 Just above town, we encountered the Jardin Medieval, a garden where the municipal gardeners of Les Andelys have cultivated herbs and other plants that were used as food, flavorings, and remedies during the Middle Ages.
---
---
---
---