River Baroness Cruise Photos
From: Uniworld River Baroness cruise review
Day 2: Les Andelys and River Seine (3)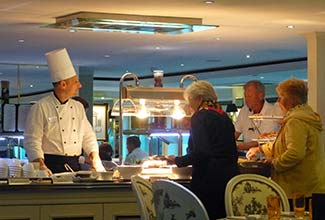 After Les Andelys had disappeared from view, we had lunch in the Van Gogh Restaurant, where executive Chef Frédéric Roland carved and served at the buffet.
---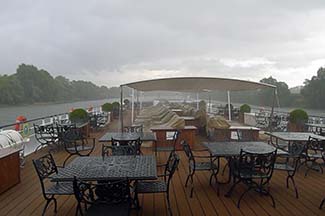 It was raining when we went up to the Sun Deck after lunch, and only a few passengers were braving the weather. 
---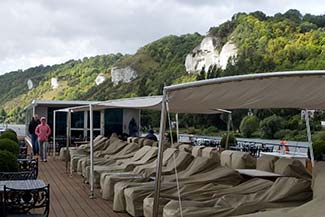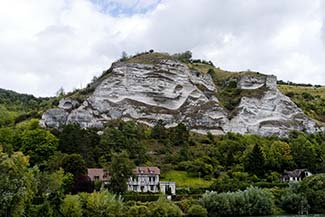 Fortunately, conditions soon improved, and we were able to enjoy views of the white cliffs along the Seine.
---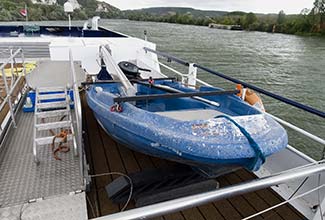 Like the hills of Normandy, the blue dinghy on the Sun Deck was dappled in white. The paint-spattered boat was a testament to the crew's compulsive hull maintenance.
---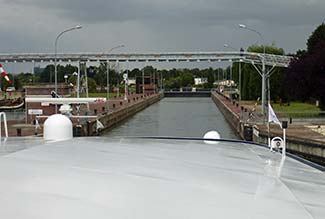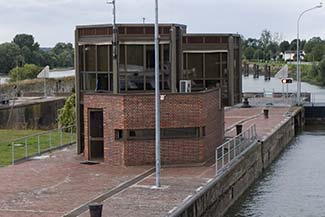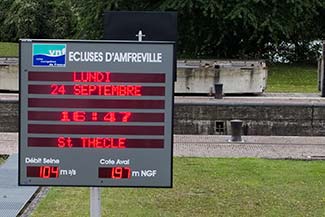 During the afternoon, River Baroness reached the Ecluses d'Amfreville or Amfreville Lock, the largest of the river locks on the Seine. It was the last of six locks before we continued  downriver: Once we passed through it, our ship would rise and fall with tides from the North Sea, 176 km or 110 miles away.
---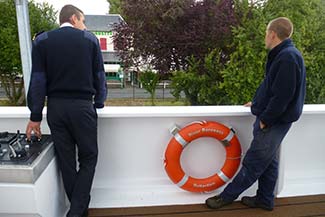 Captain Dave, our ship's second captain, piloted River Baroness as we entered the lock. 
---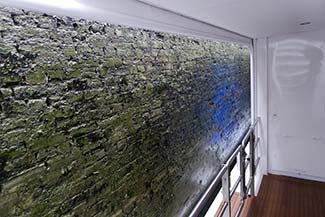 As water drained from the downriver side of the lock, River Baroness slowly descended between the wet brick walls. 
---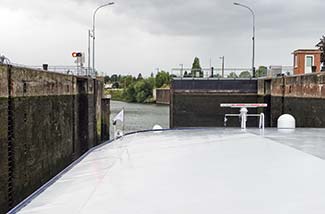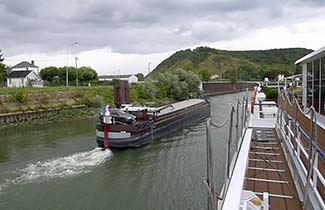 When the lock's water level matched the level of the river, the gate opened and River Baroness continued on its journey.
---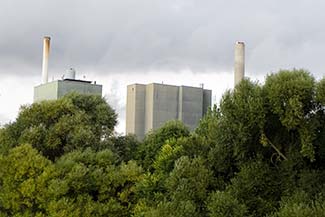 The rural landscape became dotted with industrial development as the afternoon wore on, with power plants, factories, and other large buildings occasionally peeking through the trees along the river.
---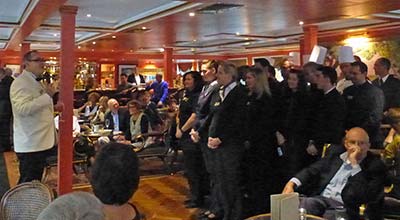 Before dinner, passengers gathered in the Monet Lounge for the Captain's Welcome Reception and (above) the hotel manager's introduction of the crew.
---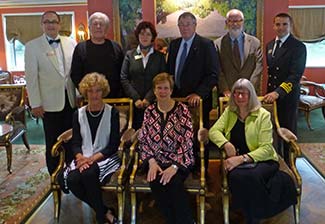 We were lucky enough to have dinner at the Captain's Table. Before the meal, a crew member took this picture in the Monet Lounge.
The man at top left is hotel manager Sebastien Wendling; the woman in the middle of the top row is Ramona Kurcsics, the cruise manager; and the man at top right (with the gold braid on his sleeve) is the first captain of River Baroness, Emmanuel Quendera.
---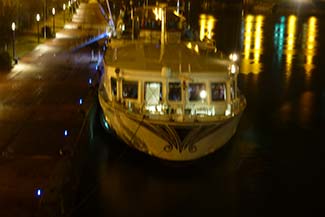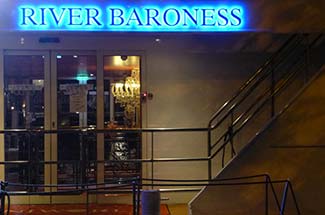 River Baroness arrivedat the Quai de Paris in Rouen during dinner. Later in the evening, we went ashore for a walk in the rain. Downtown Rouen was quiet, so we returned to the ship and took a couple of blurry snapshots in the dark before turning in.
---
---
---
---