The final stop of our tour was the Normandy American Cemetery and Memorial in Colleville-sur-Mer, overlooking Omaha Beach.
The top photo shows the cemetery's reflecting pool; the second picture is of the Memorial, which faces the 10 grave plots.
The cemetery was established only two days after the invasion. It has 9,387 graves.
In the first photo above, Cheryl is placing a flower on the grave of Private John C. De Vita of New York, a soldier of the 12th Infantry - 4th Division who died on July 15, 1944.
---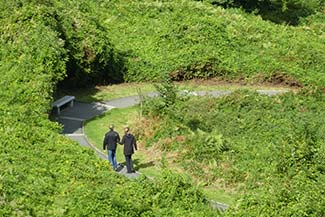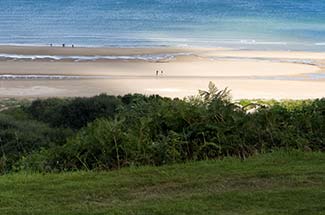 Just beyond the graves and an overlook, a path led down to Omaha Beach.
---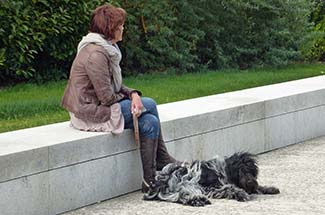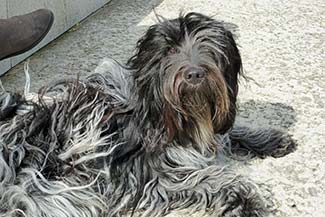 We were on a tight tour schedule, so we headed for the Visitor Center, where we encountered a Dutch lady with her Schapendoes (a Dutch sheepdog), who were waiting outside while the woman's husband looked at the exhibits. Except for its coloring, the dog reminded us of Maggie, our Bearded Collie.

---
The lady may have been disappointed that dogs weren't allowed inside the Visitor Center, but at least she and her Schapendoes were spared from having to stand in the slow-moving security line.
---
Soon, it was time to leave the Normandy American Cemetery for the long drive back to Rouen.
---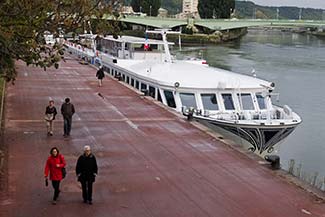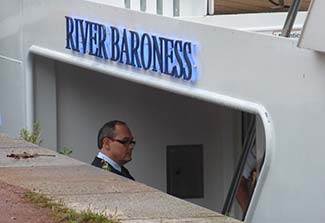 The tide was out again by the time we returned to River Baroness later in the afternoon. In the lower photo, you can see that the head of Sebastien Wendling, the ship's hotel manager, is barely level with the quay.
---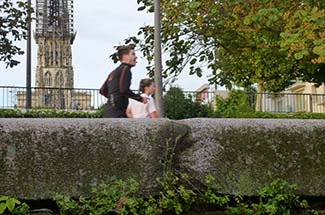 From our cabin, we had to look up for a view of joggers on the waterfront promenade and the spire of Rouen Cathedral.

---
---
---
---