River Baroness Cruise Photos
From: Uniworld River Baroness cruise review
Day 4: Rouen (7)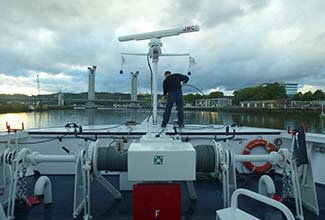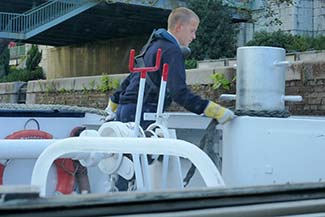 Shortly before dinner at 7 p.m., the crew of River Baroness prepared to set sail for Caudebec-en-Caux, the final downriver port of our cruise.
---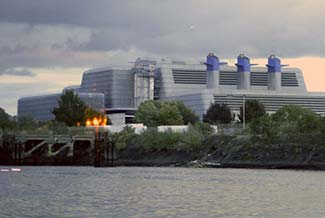 As we left Rouen's city center behind us, we passed through an industrial area. One of the most interesting sights was the SNVE Vesta power plant, which is fueled by solid waste. The sleek-looking plant has finned chimneys that resemble the stacks on the S.S. France, which offered regular transatlantic service between New York and Normandy from 1962 until 1974.
---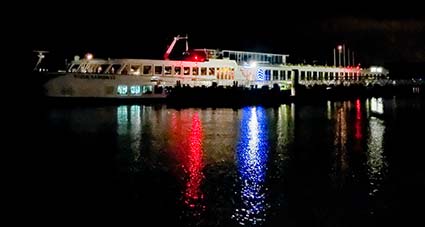 River Baroness arrived in Caudebec-en-Caux around 10:30 p.m. We were the only passengers who ventured ashore. (We took this photo, which is reminiscent of the French Tricolor, from a promenade along the town's waterfront.)

---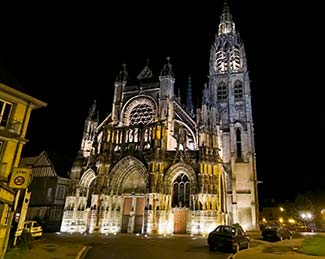 Much of Caudebec-en-Caux was destroyed in World War II, but the town's église Notre-Dame or Church of Our Lady survived the artillery bombardment that left bullet scars in its façade. The floodlit church was an impressive sight during our nighttime stroll, especially for a town with only 2,300 inhabitants.
---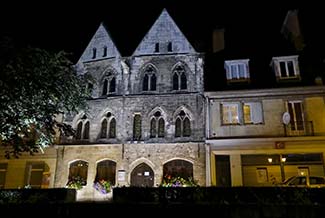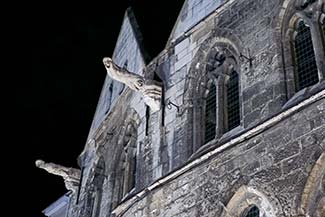 Another floodlit building in Caudebec-en-Caux was the Maison des Templiers (in English, House of the Templars), which was built by the Knights Templar in the 12th and 13th Centuries and has been a museum since the late 1800s.

---
---
---
---