Copenhagen 3-Star Hotels
From: Copenhagen, Denmark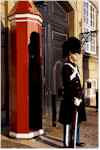 LEFT: A sentry at Amalienborg Palace.
Absalon Hotel
The Absalon is just 150 meters (about 1-1/2 football fields) from the central railroad station and 200m from Tivoli.
Ascot
The Ascot Hotel occupies three buildings, including a former municipal bathhouse, in central Copenhagen. It offers free parking, and well-heeled guests can book penthouse apartments.
CABINN
Copenhagen's four "CABINN" hotels are modeled after ships' cabins, with beds that convert to sofas during the day. (The newest property in the group, the CABINN Metro, is the largest hotel in Denmark: Think of a megaship on land.) Prices are reasonable by Danish standards, but the breakfast buffet is an extra-cost option.
Copenhagen Strand
This newer 174-room hotel occupies a renovated warehouse on the waterfront in central Copenhagen. Tivoli and the central railroad station are just over 2 km away.
Du Nord
A no-smoking floor and free ice cubes make this 65-room hotel appealing to North American visitors. The Du Nord is only 110 meters from the main railroad station.
Ibsens
This hotel in central Copenhagen is popular with Scandinavians. It's located in the Nansensgade area, not far from the Botanical Gardens and the Nørreport transit station.
Maritime
The Maritime is handy to Nyhavn and the Str°yet shopping district. The hotel is furnished in Danish modern style, and three-bed family rooms are available.
Norlandia Richmond
This modern three-star property has 122 rooms and five suites. It's a short walk from the main railroad station, and the metered parking lot nearby is free at night.
Tiffany
The Hotel Tiffany is a three-minute walk from Tivoli. Rooms have kitchenettes, and a Continental breakfast is included in the rates.
---
---
---
---