The Euro
Page 2
Continued from Page 1
By Durant Imboden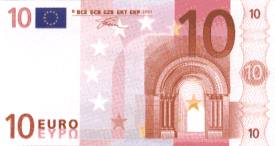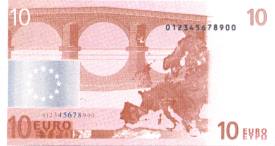 ABOVE: Front and back of a €10 banknote.
Q. How long will I be able to exchange old currencies for euros?
The euro became the only legal tender in 12 euro countries in February, 2002. Central banks accepted old coins in exchange for euros for three years, and they were required to exchange banknotes for 10 years after the changeover. If you have a stash of pre-euro currency from before 2002 that you need to convert, you're now out of luck.
More countries are likely to join the euro zone in the years ahead, and central banks will be exchanging new participants' currencies for euros until well into the second decade of this century--and maybe beyond.
Next Page: Euro Web links
---
---
---
Photos: Europa, copyright © European Monetary Institute and European Central Bank.