Global Volunteers
Do you enjoy helping people? Try a service vacation.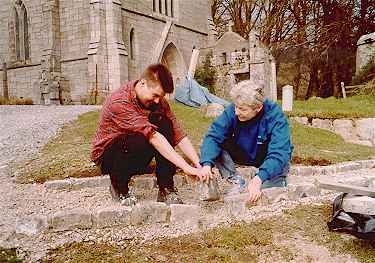 ABOVE: Nancy Castle landscapes with another volunteer in Glencree, Ireland.
By Durant Imboden
You've seen the view from the Eiffel Tower, you've trudged up the Spanish Steps, you've fed the pigeons in the Piazza San Marco, and you've listened to the horrors of English history in the Tower of London. So what's left? Try a European adventure vacation--one that doesn't require bungee jumping, rock climbing, or paragliding off an Alp.
The adventure is called "service," and it can involve anything from teaching English in Italy to caring for abandoned children in Romania. What's more, it's easy to arrange, thanks to an organization called Global Volunteers that has sent more than 32,000 volunteers to five continents and 200+ host communities since 1984.
How it works
You pick a country and indicate which of the available dates interest you most. When applying, you can indicate if you'd like to be part of an all-adult team or a family team.
You pay a tax-deductible fee of approximately USD 1,800 to USD 3,000 or more, depending on your destination and whether you've signed up for a one-, two-, or three-week program. The fee covers all meals, lodging, in-country ground transportation for international programs, and related program costs. (Expenses during your free time are your own responsibility.)
Global Volunteers then tries to match your skills to local program needs. For example, if you're a physician or nurse, you might be asked to volunteer at Tutova Hospital in Romania, which also has opportunities for laypeople to nurture orphaned infants. If you enjoy conversation and tutoring, you could teach English in Greece or Poland. Or you might be invited to help with restoration work in Ireland (see photo above).

For more information, including upcoming volunteer service programs, visit globalvolunteers.org.
Next page: Volunteer interview: Thomas P. Valenti (Italy)
---
---