Europe > Main menu > Where to stay
Travel Articles - Europe:
Where to stay in Europe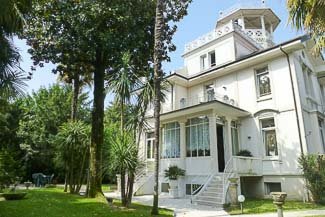 ABOVE: The Hotel Villa delle Palme on Italy's Lido di Venezia has a cupola on the roof where guests can enjoy views of Venice and the Venetian Lagoon.
Booking Hotel Rooms
How to save money, how to get the room you want, and what alternatives to consider when booking accommodations in Europe.
Phony Hotel Reviews
Can you trust "user reviews" at sites like TripAdvisor.com and VirtualTourist.com? According to industry insiders and investigative journalists, "review spam" is a growing problem.
A Home Away From Home
Tips on renting self-catering accommodation in Europe, including points that you need to clarify at the outset (such as whether linens are included). Includes photos of a vacation apartment that our family rented in Venice.
Interview: Karen Brown
Karen Brown, author and publisher of Karen Brown's Guides (see below), talks about life as a guidebook writer and tells the secret of a rewarding European trip.
AeroRooms Prague Airport
Looking for a place to spend the night before an early-morning flight from Prague's Václav Havel Airport? Try AeroRooms, an affordable hotel within the airport terminals.
Renaissance Amsterdam Hotel
This newly renovated five-star hotel has two amenities that its competitors lack: an authentic 'brown café' that existed before the hotel was built, and a 17th Century domed church with a working organ and carved wooden pulpit that serves as a conference center.
Hilton Munich Airport
The only luxury hotel at Munich International Airport is a short walk from the terminals and the München Airport Center shopping mall.
Venice Hotel Guide
Our advice on where to stay in Venice includes step-by-directions to 130+ hotels, interactive hotel maps, "How many bridges to cross?" hotel listings, and hotel recommendations by area (such as the airport, the railroad station, the Piazza San Marco, and the cruise port).
Generator Hostel Venice
The rebuilt and renamed Ostello Venezia is a bargain (except for the waterbus fare), and our directions make it easy to reach.
Venice apartment rentals
If you're staying in Venice for at least four days, Helga Gross can help you live as the Venetians do.
Paris for Visitors
Where to Stay in Paris
Our easy-to-read, step-by-step article will help you pick the right type of accommodation and neighborhood for your visit.
Hotels in Montmartre
If you're arriving by Eurostar or at Charles de Gaulle Airport, Montmartre is a convenient and atmospheric place to stay. Our hotel and apartment tips will help you avoid disappointment.
An Apartment in Paris
If you're visiting for a week or longer, Glenn Cooper can help you feel like a Parisian and save money in the bargain. (Our flat was on the Île de la Cité, just around the corner from Nôtre-Dame.)
An Apartment in Montmartre
Thanks to Michele Vannoni of Home Rental Connections, we were able to book a spacious flat near Sacré-Coeur and within walking distance of the Eurostar terminal at the Gare du Nord.
Swiss Hotel Rooms
Switzerland's beds and bedding aren't designed for hanky-panky, and the toilets can be tricky.
Swiss and Austrian Hostels
On a budget? Stay at 160+ comfortable hostels that cater to individuals, families, and groups of all ages.
Hôtel Palafitte - Neuchâtel, Switzerland
High tech, high style, and "sustainable architecture" converge in the only European hotel that's built over water.
Riffelalp Resort, Zermatt
Nearly 40 years after the legendary Riffelalp Grand Hotel was destroyed by fire, a new and more intimate resort hotel occupies its site on a mountain plateau overlooking the Matterhorn and Zermatt, Switzerland.
Affordable Zürich Hotels
A guide to three Zürich hotels in the low to medium price range: the Franziskaner, the Du Théâtre, and the Limmathof.