The Pilgrimage Road to Santiago
Book review
Continued from page 2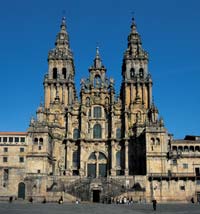 ABOVE: Santiago Cathedral's fašade on the Praza do Obradoirio.
Web links
Santiago de Compostela Travel Guide europeforvisitors.com
Our 8-page guide is accompanied by a photo gallery and other articles about Galicia.
Xacobeo: El Camingo de Santiago - The Way of St. James
This long-established site for pilgrims and armchair travelers provides historical information, route descriptions, video clips, an image bank, virtual landscapes, a "pilgrim's book" of travelogues, a discussion forum, and more.
The Confraternity of St. James
This non-denominational British organization for religious and cultural pilgrims has online route descriptions and publishes a series of pilgrim guides.
American Pilgrims on the Camino
American Pilgrims is a non-profit organization that supports the Camino, gathers pilgrims together, and supplies information with a helpful and well-designed Web site.
El Camino de Santiago
John Daganeis created this virtual pilgrimage for UCLA's Department of Spanish and Portuguese. The text has some formatting problems, but the information and artwork make the site a worthwhile destination.
Santiago de Compostela: Pilgrim Statistics
Patrick Dazelle provides a census of pilgrim numbers and origins from the late 1990s. (Although that was quite a while ago, it's a only a blip on the timeline of a pilgrimage that dates back to the 9th Century).
Back to: The Pilgrimage Road to Santiago: Book Review
---
---
---