Cabo da Roca
Sintra, Portugal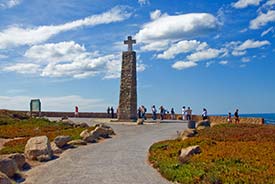 ABOVE: The monument and scenic overlook at Cabo da Roca, the westernmost point on the European continent.
By Durant Imboden
Cabo da Roca (in English, Cape Roca) is a rugged outcropping on the Atlantic Coast of Portugal, to the west and slightly north of Lisbon. Its location is dramatic, with high cliffs overlooking the ocean, but the cape's real claim to fame is its longitude of 9° 30' W: Cabo da Roca is at the far western edge of Continental Europe, where--in the words of Portuguese poet Luís Vaz de Camões--it is "the point where the earth ends and the sea begins."
The windswept site has a lighthouse that was completed in 1772, along with a monument and a scenic overlook. It's a popular spot with tourists, who enjoy the view from the cliffs (which are 140 meters or 459 feet above sea level) and the chance to stand at what once was the edge of the world.
On the following two pages, you'll find directions to the cape by public or private transportation, visitor information, links to related Web sites (including a satellite image), and more photos.
The Cabo da Roca makes a pleasant stop on a circular tour from Lisbon to Sintra, and you can even reach the cape by bicycle from Cascais if you're willing to brave an uphill ride. To plan your excursion, continue to page 2 of this article.