Pena National Palace
Sintra, Portugal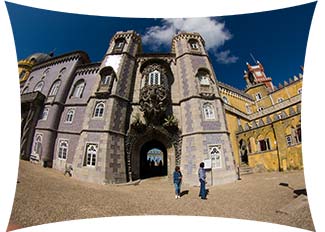 ABOVE: A distortion-corrected fisheye view of the Palácio da Pena's main courtyard. INSET BELOW: A staircase inside the palace walls, and a castle-style duck house in the Parque da Pena's Valley of the Lakes.
By Durant Imboden
Portugal's Pena National Palace is located on a rocky ridge above Sintra, a thousand-year-old town on the outskirts of Lisbon. It's one of several palaces in the Sintra Hills, which were awarded UNESCO World Heritage status as a "cultural landscape" in 1995.
The Palácio da Pena and its surrounding park are billed as "a consummate specimen of Portuguese romantic architecture." The palace, which was built from 1842 to 1854, is a riot of building styles that range from Moorish to pseudo-medieval. It occupies the site of a Hieronymite monastery that had fallen into disrepair after the Great Lisbon Earthquake of 1755 and Portugal's outlawing of religious orders in 1834.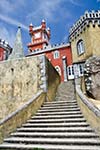 Don Fernando II, king consort to Queen Dona Maria II, bought the defunct monastery in 1838. The cloisters were repaired and incorporated into a new royal summer residence. The architect, a German mining engineer with a fondness for castles, must have felt that he'd struck gold when Don Fernando commissioned him to assemble a millennium's worth of architectural motifs under one roof.
Impressive and whimsical as the palacio may be, its setting is equally stunning: 500 meters above sea level, on a rocky promentory that looks purpose-built for a castle.

The palace is surrounded by the delightful Parque da Pena, which offers walking paths, fountains, lakes, follies, and belvederes within its 85 hectares or 210 acres of romantic landscape. (Don't let the natural-looking landscape fool you: The steep hillsides were barren until the arboretum's planners brought in exotic trees and other specimens from as far away as the Americas, Australia, and China.)
For visitor information (including transportation), related Web links, and more captioned photos, continue to page 2 of this article or use the navigation menu below.