Glengarriff Nature Reserve
County Cork, Republic of Ireland
from Walking in Ireland
By Durant Imboden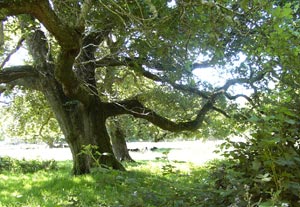 ABOVE: A native tree in the Glengarriff Nature Reserve. In this same meadow, the government has established a herd of Kerry cattle, which once were the dominant breed in Ireland.
The Glengarriff Wood National Nature Reserve is a mile north of Glengarriff, an historic and attractive holiday resort at the foot of the Caha Mountains on Bantry Bay. The village is only 17 km or 11 miles from Bantry, and it's a popular jumping-off point for The Beara Way, one of Ireland's National Waymarked Ways. Another local attraction is Garinish Island, which has 37 acres or 15 acres of Italian-style gardens and subtropical plants.
The Nature Reserve has some of Ireland's oldest and largest oaks, which were planted by the first Earl of Bantry nearly 200 years ago. Paths leads through the woods and up to Lady Bantry's Lookout, which offers views of Glengarriff, Bantry Bay, and actress Maureen O'Hara's summer estate. You won't need a map to find your away around, but if you're continuing along the Beara Way, you'll want Map 85 of the Ordnance Survey Ireland Discovery Series. For other local walks, pick up the free Let's Walk Around Glengarriff leaflet at the tourist office.

Accommodations and dining: For atmosphere, it's hard to beat the Glengarriff Eccles Hotel, which claims to be one of the oldest hotels in Ireland. (The original building dates back to 1745.) The Eccles has 66 rooms, many of which overlook Bantry Bay or Garnish Island, and you can order meals in the restaurant or in the friendly, old-fashioned bar that has views of the water.
For more information on the woods and Glengarriff, see:
Cork Guide: Glengarriff Scenic Walks
Next page: More photos with captions
---
---
---
---
---