Bunratty Manor Hotel
Bunratty Village (Shannon), Ireland
from Walking in Ireland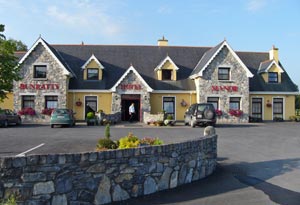 ABOVE: The Bunratty Manor Hotel is along the N18 highway on the outskirts of Bunratty Village. Shannon Airport less than 6 miles away.
By Durant Imboden
Every so often, I stay at a hotel that--for one reason or another-- deserves a full review. The Bunratty Manor Hotel is one such place--not so much because of the building itself (comfortable though it may be), but because the owners have created such a pleasant and welcoming atmosphere.
I stayed at the Bunratty Manor Hotel at the end of a walking trip in Ireland, with a departure from Shannon Airport the next day. At first glance, the hotel wasn't especially prepossessing: From the front, it could have been mistaken for an upscale Irish-themed motor hotel in the United States, with a stone-and-stucco faÁade and a large parking between the highway and the entrance.

The interior created a different and altogether delightful impression: The lobby was warm and cozy, with the owners' teenage daughter Marin behind the desk and Noel Wallace, the cheerful proprietor, handing out keys to our small group. Behind the lobby was the Ristorante Ponte Vecchio, the hotel's Italian restaurant, with an alfresco dining terrace and garden beyond.

Doors and a staircase led to the hotel's guestrooms, including my queen-bedded room (which had a fully wheelchair-accessible bathroom and shower).

From my bedroom windows, I could see the hotel's spacious garden, which adjoined the restaurant's terrace and had seating for hotel guests. The bedroom itself was attractively furnished, and it came with an unusual amenity: a free 3-minute international phone call.
Because it was a Monday, the Bunratty Manor's restaurant wasn't open, so we walked down the street to Durty Nellie's, an admittedly touristy but enjoyable pub-restaurant next to Bunratty Castle. (Many of the diners were foreign visitors, but the pub and outside picnic tables were mostly occupied by locals--including our landlord, who was having a night out with his wife Fiona.)
Later on, back at the hotel, we asked Marin (who was on desk duty) if the bar was open. She followed us into the pleasant bar, where the walls were covered with framed Irish racing silks, and poured our drinks. Noel and Fiona wandered in a few minutes later, and we had a nice chat over our last-night glasses of Guinness, Murphy's, or Jameson's before heading up to bed.
Next morning, Noel himself was in the restaurant, cheerfully serving cooked Irish breakfasts along with the hired help.
Verdict: I'd happily stay again at the Bunratty Manor Hotel, which offers a friendly welcome, first-class amenities, and a location within 10 minutes of Shannon International Airport by car or taxi.
For hotel information and bookings, visit:
Back to: Walking in Ireland
---
---
---
---
---