Sheep's Head Way
County Cork, Republic of Ireland
from Walking in Ireland
By Durant Imboden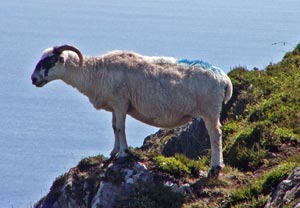 ABOVE: A local resident enjoys the view from Sheep's Head Peninsula in West Cork.
The Sheep's Head Way is a national waymarked trail on the Sheep's Head Peninsula of West Cork (also known as Muntervary or Rinn Mhuintir Bháire in Irish).
The circular trail's total length is 88 km or 55 miles, and you can easily spend four days walking from Bantry to Sheep's Head and back again without retracing your steps. If your time is limited, you can drive to the visitor center near the end of the peninsula and walk shorter loops along the cliffs and bogs around the Sheep's Head Lighhouse.
Before walking the trail on your own, you'll need good maps: A Map & Guidebook to The Sheep's Head Way, and Maps 85 and 88 of the Ordnance Survey Ireland's Discovery Series. (If you're just visiting the tip of the peninsula, Map 88 will be sufficient.) You can purchase these at the Bantry tourist office.

Tip: The Sheep's Head Way isn't a difficult trail, but many areas are unimproved, and at times you'll be stepping from rock to rock or squishing through boggy moorland. I strongly recommend boots with ankle support, such as the shock-absorbing Z-Coil boots in the photo.
Accommodations and dining: Lodgings are available at a few locations along the Way (such as Seamount Farm in Glenlough, which offers walking tours) and in Bantry, West Cork. Our small group stayed at the West Lodge Hotel & Pondlodge Cottages, which is in a parklike setting on the edge of Bantry. The modern 95-room hotel is convenient if you're driving, and it offers resort and babysitting services for families.

Several other hotels are in the area, including the Bantry Bay Hotel (located on The Square in downtown Bantry, e-mail: [email protected]) and Bantry House, a stately home wih eight bedrooms for guests.
If walking makes you hungry and you don't mind splurging on dinner, try O'Connor's Seafood Restaurant in downtown Bantry. O'Connor's has been owned by the same family for three generations, and today's proprietors--Peter and Anne O'Brien--serve fish, lobster, and Bantry Bay shellfish in both traditional and creative ways.
For more information on The Sheep's Head Way and Bantry, see:
123Travel: The Sheep's Head Way
Next page: More photos with captions
---
---
---
---
---