Europe > Portugal > Porto > Shopping
Porto, Portugal
Page 8
Continued from page 7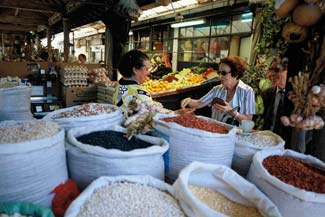 ABOVE: The Bolhão food market in central Porto.
Shopping in Porto
Porto, like other cities in Portugal, is a good place to look for traditional wares such as Arraiolos carpets (a.k.a. Portuguese needlework rugs), gold filigree jewelry, embroidered linens, and ceramics.
For purchases that you don't need to take home, try any pastry shop or the Bolhão Market (see photo at top of page), which is open from 7 a.m. to 5 p.m. weekdays and until 1 p.m. on Saturdays.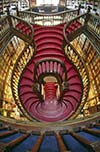 If you need something to read (or if you simply want to see an over-top-top Art Nouveau building), walk to the Livraria Lello in the Rua das Carmelitas, which has been called "the most beautiful bookstore in the world."
Handicrafts are the house specialty at CRAT, more formally known as the Centro Regional de Artes Tradicionais or Regional Center for Traditional Arts. CRAT, located at Rua Riboleira 37, is both a shop and gallery, and it's open daily from 10 to 6 p.m. with an hour's lunch break at noon.
Port wine is also worth buying in Porto if you can figure out how to get it home. (If you're flying, you'll need to pack it carefully in a checked suitcase and hope for the best.) Cálem and other wine lodges across the river in Vila Nova de Gaia often sell older vintages and limited-production Porto wines that aren't available outside Portugal.
For more shopping suggestions, see Frommer's excellent Porto shopping article.
Next page: Transportation
---
---
---
---
Photos copyright © Porto & Northern Portugal Tourism.