Europe > Portugal > Porto > Museums
Porto, Portugal
Page 4
Continued from page 3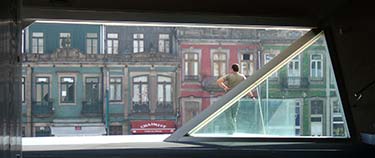 ABOVE: A man admires historic houses from the foyer of the state-of-the-art Casa da Música.
Museums
Porto isn't a museum city on the scale of Lisbon or Paris, but after you've exhausted its churches and other landmarks, you'll find a decent assortment of museums and galleries. For example:
The Museu Nacional Soares dos Reis, named after a famous Portuguese sculptor, has collections of art, decorative arts, and historical exhibits in an 18th Century royal palace.
The Museu de Etnografia e História, located in yet another palace from the 1700s, covers the history and customs of Porto and the Douro Valley. Exhibits range from country costumes to boat models to 19th Century birthing chairs.
The Museu Romântico features a collection of decorative arts in an historic mansion with a garden and river views. On the ground floor, the Solar do Vinho do Porto tasting bar (operated by the Port Wine Institute) serves more than 150 varieties of port.

The Museo do Carro Eléctrico, or Electric Tram Museum, is a worthy destination for transit aficionados. Exhibits, which are housed in an old electric power station, include the first electric streetcar on the Iberian peninsula and a horse-drawn car from 1872. Also look for the #18 vintage tram line, which stops near the museum.
The Porto Wine Museum is a good introduction to the city and region's wine industry; you'll also want to visit at least one port wine lodge in Vila Nova de Gaia, just across the river from downtown Porto.
The Casa da Música isn't a museum--it's a cluster of concert halls and rehearsal spaces--but it's probably the most interesting new building in Porto, with an innovative design by OMA Rotterdam that lets the public watch orchestral and pop musicians at work. Don't let the bland exterior fool you: The Casa da Música's brilliance is on the inside, which you can explore on a guided tour.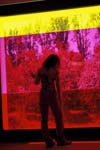 If you're into modern art, spend two or three hours at the Fundação Serralves, which is located west of downtown just off the Avenida da Boavista (the main avenue between the city center and the Atlantic Ocean).

The large city-owned park contains a contemporary art museum, an Art Deco villa with special exhibitions, and formal gardens with modern sculptures and installations scattered about the grounds. (The restaurant on the museum's top floor serves a nice buffet lunch; in warm weather, you can sit on the roof terrace.)
Next page: Events and festivals
---
---
---
---
Inset photos copyright ©:
(1,2) Porto & North of Portugal Tourism,
(3) Casa de Música,
(4,5) Fundação Serralves