Europe > Portugal > Porto > Hotels & vacation rentals
Porto, Portugal
Page 6
Continued from page 5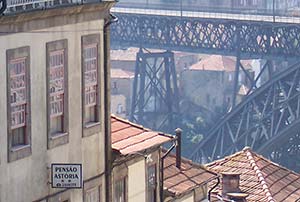 Hotels in Porto
In our opinion, location should be your #1 concern when selecting a hotel in Porto. Many otherwise desirable hotels in Porto are located outside the historic center, in residential or commercial areas that are best enjoyed by business travelers or department-store shoppers. Still, if you're arriving by car, you may prefer being out of the center just to avoid driving and parking on the narrow, twisting, crowded downtown streets.

In the city center, the Hotel Infante Sagres is the only five-star hotel. Although it was built in the 1950s, you'd never guess it from the public rooms, which are ornately decorated with carved wood, marble, stained glass, Chinese porcelain, and other furnishings that might be characterized as "Portuguese Victorian meets Art Deco." The restaurant-breakfast room feels like a ballroom, and the 73 guestrooms are comfortable with attractive bathrooms (but avoid the fifth-floor rooms if you insist on reasonable water pressure).
The modern four-star Hotel Dom Henrique has 112 rooms on 22 floors on the northern edge of downtown. For more atmosphere in a scenic location, try the Pestana Porto Hotel & World Heritage Site, which overlooks the riverfront.
In the three-star category, the Grande Hotel de Paris is convenient to the Praça da Liberdade and the São Bento railway station. The reasonably-priced hotel, which has its own garden, was built in 1888.
For more places to stay (including hotels, hostels, and other accommodation), see our hotel partner's Web site. Booking.com is the leading secure hotel site in Europe, and its listings include photos, ratings, and reviews by actual paying guests:
Next page: Restaurants
---
---
---
---