Europe > Portugal > Quinta Nova de Nossa Senhora do Carmo > 2
Quinta Nova de Nossa Senhora do Carmo
Page 2
Continued from page 1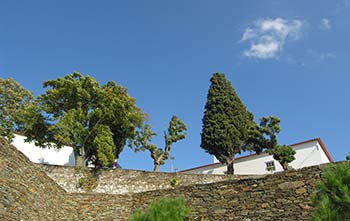 ABOVE: A winding road leads to the hotel, which is surrounded by vineyards and is only a short walk from the Quinta Nova winery.
Hotel

The Hotel Rural Quinta Nova de Nossa Senhora do Carmo has 11 rooms in three price categories. Rates include VAT and a buffet breakfast.

The hotel is well-equipped with public spaces, including a winter garden with fireplaces, a children's playroom, a covered "shed" or terrace with upholstered deck chairs, picnic tables, a terrace with overhanging grapevines, and a swimming pool.
There's even an historic private chapel that can be rented for weddings and other religious ceremonies. Just as important, the hotel has facilities for disabled guests.
In 2007, Quinta Nova won a "Best of Wine Tourism" award in the accommodation category.
Spa treatments
Quinta Nova doesn't have a spa, but it can provide "wine therapies" for groups, using Caudalie Vinotherapie products that are made with grapeseed extracts.
Restaurant and Wine Bar

Quinta Nova's restaurant and wine bar spill outdoors onto the terrace in good weather. The restaurant is open for lunch and dinner. Reservations are required, but you needn't be a hotel guest to book a table.
The wine bar operates from mid-morning until late at night, and you can order snacks with the quinta's own table wine or Port.
Quinta Nova is especially popular during the harvest season, but it attracts guests year-round from Porto, Lisbon, and foreign countries. It offers comfortable, low-key luxury without pretension, and it makes a good base for touring in the Alto Douro wine region.
How to reach Quinta Nova:
Airplane: Quinta Nova de Nossa Senhora do Carmo is in Ferrão, about 20 minutes from Pinhão (the main river port in this stretch of the Douro, and the center of the local wine-growing industry). The estate is within easy driving distance of Vila Real Airport (VRL). The nearest international gateway is Porto Airport (OPO), which has flights from many European cities and from Newark in the U.S.
Train: Take the Portuguese Railways Douro line from the Porto São Bento station to Ferrão. Travel time is about 2-1/4 to 2-3/4 hours.
Douro riverboat: Disembark in Ferrão or Pinhão. (The hotel will collect you at the railroad station or the boat landing by prior arrangement.) For timetables and fares, see Douroazul.
Car: The Quinta Nova information sheet explains: "From Vila Real, follow signs to Vila Real Norte/Chaves - Sabrosa - Palácio de Mateus - S. Martinho de Anta - Paradela de Guiães/Gouvinhas - Ferrão - Quinta Nova; from Régua/Pinhão, follow Régua - Pinhão - Covas do Douro - Ferrão." (A good road map will help you decipher these cryptic instructions; there's also a small map on the "Contacts" page of the hotel Web site.)
For more information, see www.quintanova.com.
Next page: Vineyards and winery
---
---
---
Inset photos copyright © Quinta Nova de Nossa Senhora do Carma, Lda.