Pazo de Oca Photos
From: Pazo de Oca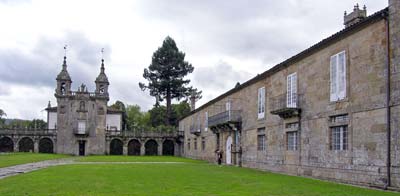 This full-sized view of the Pazo de Oca shows the chapel and the manor house (right).
You'll enter the gardens through the white door in the center of the main building. Guest services are minimal--you won't find a shop or a snack bar--but the attendant will point you to a lavatory if you need to use the facilities.
---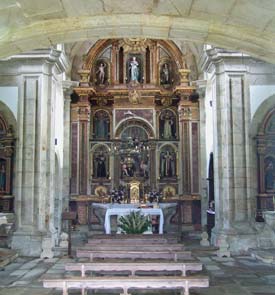 You can peek into the family's private chapel from outside, before you enter the gardens. If you've got a wedding on your to-do list, you may be tempted to book the chapel and invite your guests to Galicia.
---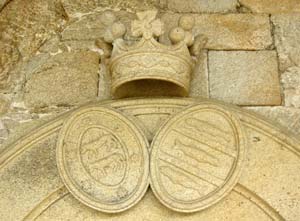 Inside the gardens you'll see a coat of arms from the noble family that built the Pazo de Oca. The two oval shields portray a pair of badly drawn mammals (horses? dogs, wolves?) and three fish.
---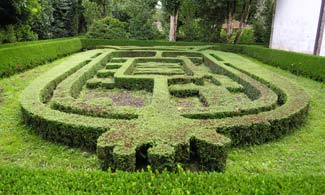 Another coat of arms is executed in topiary. (This picture was taken at the beginning of October, when the hedge's color was starting to change.)
---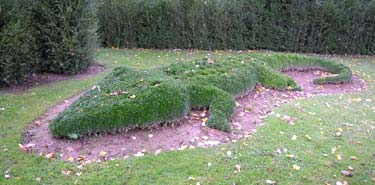 The gardens also have assorted topiary animals, including a sea monster and this evergreen crocodile.
---
A high point of the gardens is the man-made pond, which has a Baroque stone bridge, a grape arbor, and several islands in the shape of boats.
---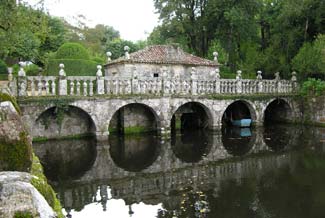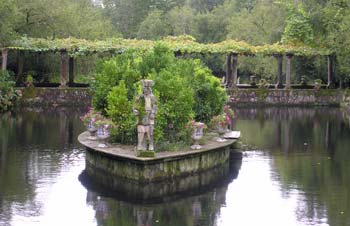 These pictures show closer views of the stone bridge and a boatlike island with a statue of a sailor at the prow. The grape arbor (which is built atop a dam) is behind.
---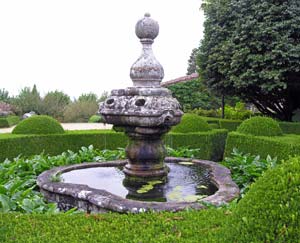 Water is a constant theme in the Pazo de Oca's French-style gardens. Here, you can see a stone fountain with topiary behind.
---
In another part of the gardens, a sluice--once used for irrigation--freshens the air on hot days with its swirling torrent and waterfall.
---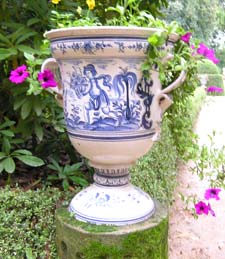 Ceramic flower planters are scattered about the Paza de Oca's gardens.
---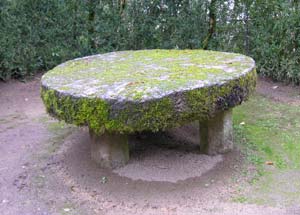 Moss on a stone table shows why this part of the country is known as "Green Spain" (or, more colloquially, "the urinal of Spain," though the latter nickname isn't promoted by the tourist office).
---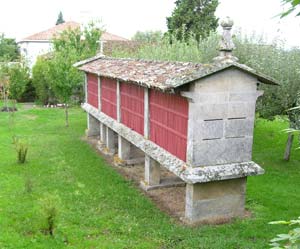 The gardens include a traditional Galician granary, which is elevated on stone columns to keep rodents and other animals from dining on the stored grain.
Back to: Pazo de Oca: Introduction
---
---
---