Skansen Open-Air Museum, Stockholm
Page 5
Continued from page 4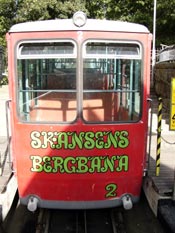 Visitor information
Dates and hours: Skansen is open every day of the year except Christmas Eve, but the best time to visit is from May through September when most historic houses are open. (If you're coming in May or September, I'd recommend a weekend visit.) Try to spend at least half a day at Skansen.
Location: Skansen is on the island of Djurgården, a former royal park just east of the city center. It's a short walk from the Vasa Museum, the Nordic Museum, and the Gröna Lunds amusement park.
Ticket prices: Admission fees vary according to the season and the visitor's age. (Off-season tickets are cheaper because fewer attractions are open.)
Directions: If you're walking from the city center, follow the Djurgårdsvägen until you reach the park. City buses 44 and 47 will also get you there, and a vintage tram runs along the waterfront to Skansen at certain times of the year.
The nearest Tunnelbana (subway) station is at Karlaplan, which is a long but not unmanageable walk from Skansen via the Narvavågen and Djurgårdsvägen.
The Djurgården pedestrian ferries are another good option; disembark at Gröna Lunds and walk through the amusement park to Skansen.
For more information, including Web links, see our Stockholm Transportation pages.
Shopping: Skansen has a shop next to the main entrance where you can buy postcards, souvenirs, Swedish crafts, and other items.
Guidebook: You can buy an English-language Skansen guidebook at any ticket window. The narrow-format 146-page book is about the size of a Michelin Green Guide, and the price is reasonable. (I found my copy of Skansen invaluable in jogging my memory when I wrote this article.)
Web site: Skansen has a multilingual Web site at Skansen.se.
Next page: Skansen photo gallery
---
---
---