Skansen Open-Air Museum, Stockholm
Page 6
Continued from page 5
Photos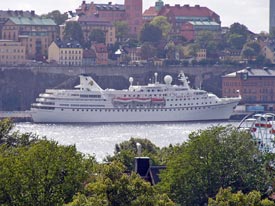 View from Upper Solliden
Upper Solliden, a hillside terrace above Skansen's main entrance, has a stage for performances, a café and restaurant, an early 20th Century observatory, and a walk where you can enjoy views of the cruise-ship and ferry pier on the island of Södermalm. (In the lower right section of the photo above, you'll also see the ferris wheel of the Gröna Lund amusement park.)
---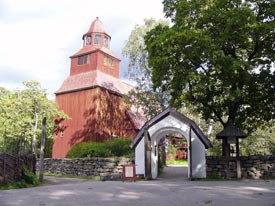 Seglora Kyrka
The Seglora Church is from Västergötland, in Central Sweden, where it was built in 1730. The tower was added in the 1780s. The kyrka has been at Skansen since 1916, where it has become a popular venue for weddings and organ concerts.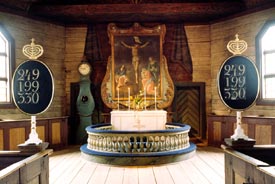 The interior of the Seglora Church has a characteristically Swedish look, with a painted altarpiece and barrel-vaulted ceiling.
---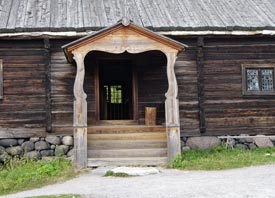 Älvrosgården
The Älvros Farmstead is in Northern Skansen, the section of the park that represents Northern Sweden. Several of the farm buildings date to the 16th and 17th Centuries.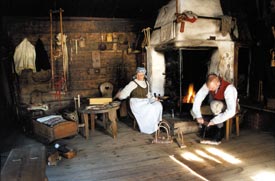 The main room of the large farmhouse was used as a kitchen, dining room, living room, and communal bedroom. Women spun wool and men carved wood indoors during the long Swedish winters.
---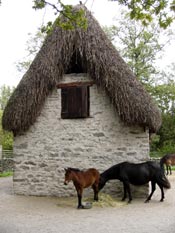 Pony Shelter
This limestone pony shelter in Southern Skansen was copied from a structure in Öja, on the island of Gotland. The shelter has an open entrance around the back and an upper level for food storage. (Farm animals can live outdoors year-round on Gotland, which has a relatively mild winter climate.)
The animals in the photo are Gotland Ponies, which lived wild in the island's forests until the early 20th Century.
---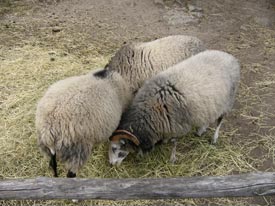 Lamb Shelter
Gotland Sheep, a hardy breed from ancient Swedish bloodlines, are kept at the Lamb Shelter next to the Skåne Farmstead.
---
---
---