Europe > Germany > Saxony > Railroading
Railroading in Saxony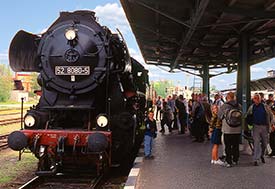 ABOVE: An excursion train at a station in East Saxony. INSET BELOW: A high-speed diesel train at the Schauplatz Eisenbahn near Chemnitz, anda conductor on the Fichtelbergbahn steam railway.
By Durant Imboden

Saxony, the easternmost Land or state in Germany, has a railroading tradition that dates back to 1839, when Germany's first long-distance railroad began service betweeen Dresden and Leipzig.
Today, Saxony is home to several dozen train museums, narrow-gauge rail lines, and other train-related attractions for families and railfans. You can read all about them at Saxon Steam, a Web site operated by Saxony's tourist board. (Much of the site is in German; if you prefer English, see VisitSaxony.com or--in the U.S.--SaxonyTourism.com.)

But don't rush off to those Web sites just yet: In the articles listed below, you'll find pictures and descriptions of train museums, a steam railroad, an aerial cablecar, a model railway, and a train hotel-restaurant that I personally visited during a recent trip to Saxony.
All of these attractions are within a few hours of Dresden, Leipzig, or Chemnitz, and one--the Dresden Park Railroad--is a short walk from the city center. So charge your camera's batteries, grab the kids, and head for Germany's most historic railroading region this year. Plan on spending at least a day or two in the countryside, plus a few days in one or more of Saxony's major cities. (If you can devote a week or two to Saxony, so much the better.)
---
---
Top photo: Tourism Marketing Company of Saxony