Kreuzkirche Tower
Turm der Kruezkirche viewing platform
From: Dresden, Germany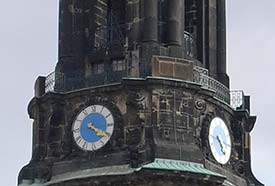 ABOVE: The observation gallery of the Turm der Kreuzkirche is directly above the church clocks. INSET BELOW: The Kreuzkirche and the Altmarkt.
By Durant Imboden

The Turm der Kreuzkirche, or Kreuzkirche tower, is one of six tower viewing platforms in Dresden's Altstadt. It offers good views of the city center, and it's easy to visit if you're reasonably fit: Most of the ascent is on a wide staircase, and the final stretch of steps is narrow but enclosed, without the fan-shaped steps that make so many church and cathedral towers tricky to climb.
Location: The Kreuzkirche is on the Altmarkt, a square just south of the Neumarkt and the modern Kulturpalast (see photo on next page) between the Elbe River and the railroad station. It's easy to find as you're walking around Dresden's Altstadt.
Hours and ticket prices: The Kreuzkirche tower is open year-round from 10 a.m. Monday-Saturday and noon on Sundays. Closing time is 3:30 p.m. from January to March, 5:30 p.m. from April to November, and 7:30 p.m. in December. Ticket prices are reasonable: When I visited in March, 2009, adult admission was only 2 euros.
Other viewing platforms in Dresden
You'll find more aerial views at:
Frauenkirche, the largest Protestant church on the European continent, which has guided tours of the dome and its exterior viewing platform year-round. (See our Frauenkirche article.)
Schlossturm, a.k.a. the Royal Palace Tower, which is open 10 a.m. - 6 p.m. April to November only. (Closed Tuesday.) Look for the entrance in the Sophienstrasse.

Rathausturm, or City Hall Tower, open 10 a.m. - 6 p.m. April to October only. The entrance is inside a courtyard off the Kreuzstrasse. (See photo at left.)
Dreikönigskirche, open year-round with hours that vary according to the day and the season.
Ernemanturm (the Erneman Tower of the Dresden Technical Collections) in the Junghansstrasse. The tower is open daily except Monday, and the modest ticket fee includes entrance to the museum.
For captioned pictures of the Kreuzkirche Tower's viewing platform and views, go to page 2 of this article.
1st inset photo copyright © DWT/Christoph Münch.