Europe > Germany > Eisenach > Lutherstuben
Lutherstuben Restaurant
From: Eisenach, Germany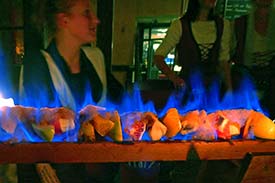 ABOVE: A flaming dessert in the Lutherstuben.
By Durant Imboden
It may be touristy, but the Lutherstuben restaurant at the Ringhotel Eisenacher Hof is also a lot of fun--especially if you're visiting with friends.
It's the German answer to the "medieval banquets" that have long been popular in the U.S. and Britain, but on a smaller scale: The Eisenacher Hof's restaurant consists of a few small rooms, instead of a banquet hall, and the tone is set by Martin Luther rather than Henry VIII.

I had dinner at the Lutherstuben with a small group of travel writers and tourist-office representatives.
When we arrived at the restaurant, we were shown to a rustic table in a candlelit room and given white linen bibs to protect our clothing.
(As our eyes adjusted to the darkness, we noticed that we were the only diners wearing bibs; the locals were either neater eaters or more inhibited than we were.)
We ordered drinks, which were served in earthenware tumblers with cone-shaped bottoms that fit into holes on the tabletop.
(We were told that, in Martin Luther's day, diners didn't sip their beer: They swigged it, then set their empty tumblers upside-down on the table to show that they were ready for a refill.)
Next, we took our pottery bowls to a soup station, where we had a choice of two different soups. The soup went well with the crusty peasant bread at our table, which may have been the best white bread I've ever eaten in Germany.
A few minutes later, waitresses brought wooden racks laden with grilled meats and vegetables on long skewers. (Another rack held a meter-long Bratwurst sausage.) We were also given bowls of potatoes, red cabbage, and other vegetables to pass around the table.
Dessert was a long skewer with thick slices of apples and other fruit that had been rolled in sugar, doused with a liqueur, and set on fire. (See photo at top of page.)
After the flames died down, the narrow wooden trough beneath the skewer contained chunks of liqueur-flavored caked sugar that most of our group found irresistible.
Verdict:
Dinner at the Lutherstuben isn't high gastronomy, but it's tasty, filling, and a pleasant way to spend an evening with companions in Eisenach, Germany.
If you're the sort of person who enjoys Renaissance Faires and other cornball theatrics, try to book a table during the "Small Luther Play" on the first Sunday of each month.