Europe > Germany > Eisenach > Hotel Vienna House Thüringer Hof
Hotel Vienna House
Thüringer Hof
From: Eisenach, Germany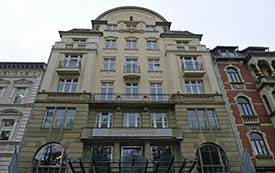 by Durant Imboden

The Vienna House Thüringer Hof (formerly a member of the Steigenberger group) is one of the most historic inns or hotels in Thuringia: It was founded in the 16th Century as a tavern, and a plaque in the lobby commemorates the visit of Leo Tolstoy--the Russian author of War and Peace--in April, 1861.

The Thüringer Hof is a pleasant combination of old and new, with a handsome wood-paneled lobby where, during my two-night stay, the clientele included businessmen in dark suits, families with small children, and a gay couple with a large Dalmatian. A doorway near the reception desk leads to a stylish modern restaurant that doubles as a breakfast room.

Upstairs, the guest rooms are modern, with comfortable chairs for sitting and reading. (You'll pay extra for Wi-Fi, which is offered only in superior rooms and public areas).
My standard room on the fifth floor had plenty of space, a full-sized tub in the bathroom, and a pleasant view of the city's rooftops.

I had two meals in the hotel's restaurant: a lunch at a table in the lobby, and a dinner inside the dining room.
Both meals were excellent, with an emphasis on international cuisine made from fresh ingredients with German touches (such as potato dumplings and a dessert plate of stewed plums with a mousse made from Quark).
During my visit, the extra-cost breakfast buffet had a nice array of breads, cold cuts, cheeses, and hot food.
Location:

The Vienna House Thüringer Hof is on Karlsplatz, next to the Luther Memorial statue and just around the corner from the pedestrian district and Markt.
The hotel is within easy walking distance of the Hauptbahnhof, or main railway station. It's also accessible by car, with parking available at the hotel or at a public garage several blocks away.
For more information, or to book a room:
Visit Booking.com's Vienna House Thüringer Hof page, which has details and rates in multiple languages and currencies. (Booking.com, our hotel partner, is Europe's leading secure reservations site.)