Contemporary Historical Forum Leipzig
Page 2
Continued from page 1
More photos - Zeitgeschichtliches Forum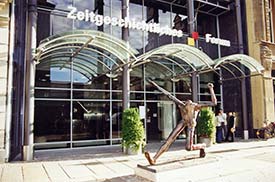 The Contemporary Historical Forum, or Zeitgeschichtliches Forum, occupies a former office building in downtown Leipzig.
---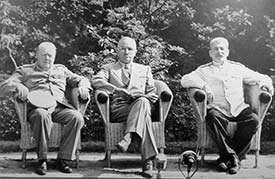 A Forum exhibit photo shows Churchill (UK), Truman (USA), and Stalin (USSR) at the Potsdam Conference of 1945, when occupation zones were drawn up. These military occupation zones set the stage for the division between East and West Germany during the Cold War years.
---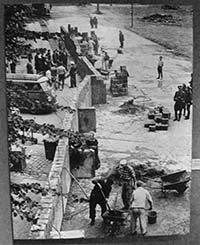 By 1952, borders existed between the BRD (West Germany) and DDR (East Germany). The Berlin Wall, shown above, was built almost overnight in 1961, and borders in rural areas were made more secure.
---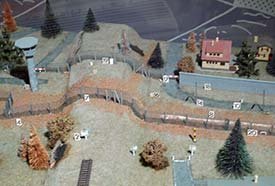 A model at the Forum shows a reinforced border between East and West Germany, with a watchtower, double fences and a "death strip," and a section of wall (right, in front of the house).
---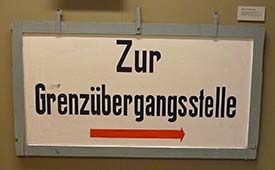 Border crossings were few and far between, especially after the construction of the Berlin Wall.
---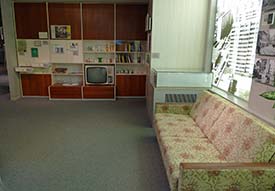 On the East German side of the border, life went on in apartments like this modern flat in the German Democratic Republic.
---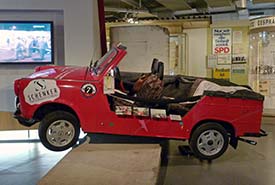 When the border and wall fell in 1989, many East Germans headed west to the BRD--some to visit, some to stay.
---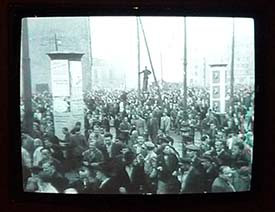 The "Peaceful Revolution" of 1989 hastened the fall of the Communist regime and opened the way to the West. On October 9, 1989, some 70,000 people flooded Leipzig's streets with cries of "We are the people!" and "No violence!" (This photo shows 1989 video footage on a TV monitor.)
Back to: Contemporary Historical Forum Leipzig
---
---
---