Nuremberg Cruise Port Directions
Page 3
Continued from Page 2
From your ship to Nuremberg's city center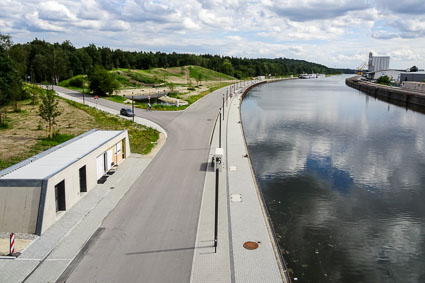 Your ship will moor at one of 10 numbered berths along the Main-Danube Canal. In the photo above, you can see the road that you'll be taking (at left) to leave the quay.
---
Continue to the road that leads uphill. (From berths 1 to 4, a bicycle and pedestrian path offers a shortcut to the road from the waterfront.)
---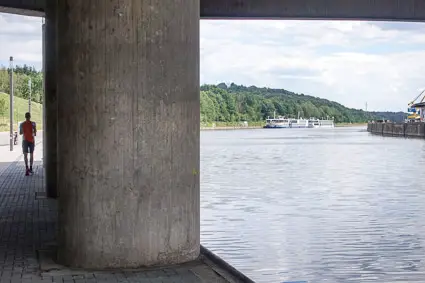 If your ship is tied up at a higher-numbered berth, you'll need to walk under the bridge toward the lower numbers until you reach the road just beyond berth 5.
---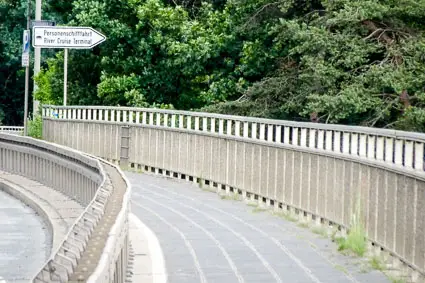 Follow the road past the parking lot to the major street above at the end of the bridge. The grade is gentle, and the walk is short.
When you reach the bridge, turn left and walk across the bridge (toward the camera, in this photo).
---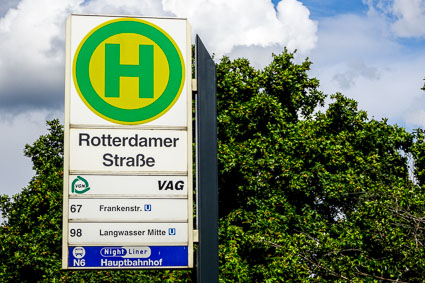 You'll reach a bus stop immediately after the bridge. Wait here for bus 67 in the direction of Frankenstrasse.
Buses normally run at 10- to 20-minute intervals. (A timetable is in the bus shelter.)
---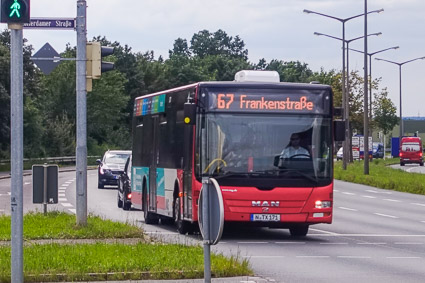 Buy a ticket from the driver when you board the bus. (Your destination is "Hauptbahnhof.")
For more information on U-Bahn, tram, and bus travel in Nuremberg (including an interactive journey planner), visit www.vag.de/en.
---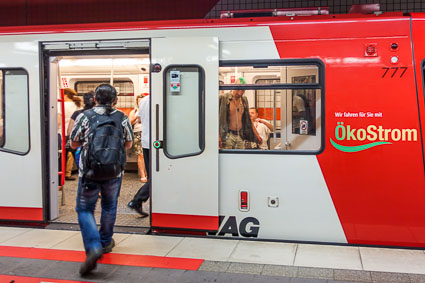 Get off the bus at Frankenstrasse and board a U-Bahn U1 train toward Hardhöhe, using your existing ticket. (The bus journey will take about nine minutes.)
---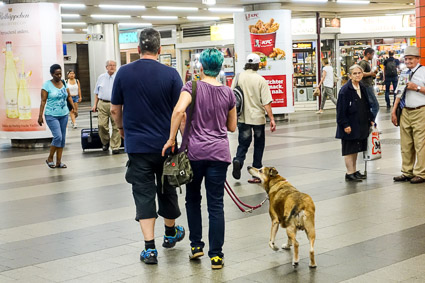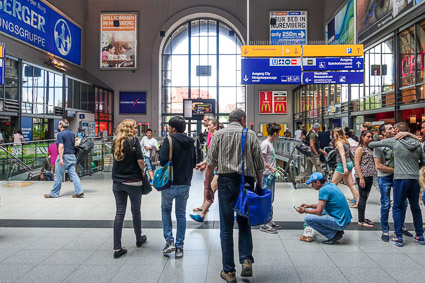 Exit the train at the Hauptbahnhof, or main railroad station, which is just outside the walls of Nuremberg's historic center. (The U-Bahn ride will take only four minutes.)
---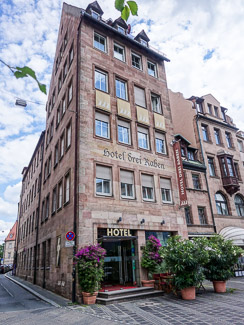 If you need a hotel in Nuremberg, we can personally recommend the Hotel Drei Raben, a delightful boutique hotel inside the city walls (no more than a five-minute walk from the railroad station).
The Hotel Drei Raben's themed rooms are modern and fun, the English-speaking staff are friendly, the included breakfast is superb, and guests are offered a free glass of wine every evening in the hotel lobby.
Next page: Erlangen (a secondary cruise port)
---
---
---
---