Europe > Germany > Nuremberg > Cruise port > Directions to Erlangen
Nuremberg Cruise Port Directions
Page 6
Continued from Page 5
Erlangen (a secondary cruise port)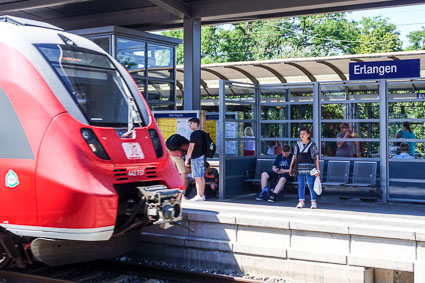 ABOVE: An S-Bahn train stops at the Hauptbahnhof in Erlangen, Germany.
Some so-called "Nuremberg" cruises actually depart from Erlangen, an attractive Baroque university town in the Nuremberg region. We can't provide directions to the Erlangen cruise port, but we can tell you how to reach Erlangen, where you should be able to find a taxi to your ship at the railroad station:
At Nuremberg Airport, buy a "Tarifstufe 4" or "Preisstufe 4" ticket from the U-Bahn's vending machine. You'll need only this one ticket for the entire journey.

Take the U-Bahn from the airport to Nuremberg's main railroad station (Nürnberg Hauptbahnhof). The trip takes about 18 minutes.

At Nürnberg Hauptbahnhof, catch either an R-Bahn 2 regional train or an S-Bahn suburban train toward Bamberg or Forchheim. (Look for the next departure with "Erlangen" in the details on the electronic signboard in the station.)

Get off the train at Erlangen Hauptbahnhof, which is in the center of Erlangen. (Travel time from Nuremberg to Erlangen is about 17 minutes.) You'll find taxis in front of the station.
Do you want to reach your ship by public transportation? First, confirm the ship's location with a phone call. Chances are, it will be at Am Hafen. If that's the case, use the journey planner at www.vgn.de to search for bus connections from "Erlangen Hauptbahnhof" to "Erlangen Am Hafen." (We have not used Erlangen's harbor and can't promise that you won't get lost.)
Tips:
For a more detailed (and illustrated) description of the rail journey, see Marian Krueger's post on her Travel Shop Girl blog, "Taking the train from Nuremberg to Erlangen, Germany."

Viking River Cruises has a page that shows its docking location in Erlangen. (Other ships calling at Erlangen are likely to be at the same quay.) Click here and select "Nuremberg" for information and a rough map.

If you need a hotel in Erlangen, we can personally recommend the Hotel Rokokohaus, which is only a short walk from the railroad station in an attractive Old Town area of historic houses, restaurants, and outdoor cafés.
Back to: Nuremberg Cruise Port: Introduction
---
---
---
---