ABOVE: A souvenir postcard shows a display of dolls and an antique train set at the Puppen & Spielzeug Museum in Rothenburg.
Toys have long held a fascination for Germans--and for visitors to Germany. In his essay, "German Toys," Andreas Thomsen writes:
"Germany was the first country where toy-making became a commercial industry...75% of the dolls and 50% of the toys in the Museum of Childhood in Edinburgh are German."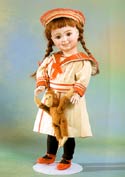 Nowhere is the German fascination with toys more evident than in the Puppen & Spielzeug Museum, or Doll and Toy Museum, in Rothenburg ob der Tauber.
The museum, which began as a private collection more than 60 years ago, draws some 40,000 visitors a year. Its collection includes more than 800 dolls, most of which were manufactured in Germany and France from the late 1700s through 1940.
Other exhibits include antique doll houses, doll shops, doll classrooms, doll kitchens, doll bedrooms, doll music rooms, doll theatres, and other environments for Puppen--together with a generous sampling of other vintage playthings such as tea sets, carousels, stuffed animals, trains, tin soldiers, and carved wooden toys.
When you visit, you may be fortunate enough to meet the owner, Katharina Engels, who began her current collection as a teenager after her childhood dolls were destroyed by Allied bombing in World War II. She brought the collection to Rothenburg ob der Tauber in 1984, and today her museum (which occupies several floors in a 15th Century house) is one of Rothenburg's most popular tourist attractions.