ABOVE: Dolls attend school at the Katharina Engels Puppen & Spielzeug Museum in Rothenburg ob der Tauber.
The Rothenburg Doll & Toy Museum is the Hofbronnengasse, about half a block from Rothenburg's Marktplatz. (Look for a red house with a round sign next to the doorway.) It's open daily year-round.
Museum shop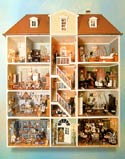 The Puppen & Spielzeug Museum gift shop is well worth visiting even if you don't have time to explore the museum. It's loaded with dollhouse furnishings, miniature toys, modern editions of antique German picture books, cards, cardboard dioramas and puppet theatres, and other items for children and collectors.
For more information, see:
Puppen & Spielzeug Museum (no longer active)
The Rothenburg Doll & Toy Museum's Web site has an illustrated history of dolls in German, along with practical information in English, French, Italian, and German.
Rothenburg ob der Tauber
Our 8-page illustrated article has information on the star attraction of Upper Bavaria's Romantic Road, with Web links to the Rothenburg Tourist Office, museums, hotels, restaurants, maps, and other resources.