Paris > Beauvais > Local Airport Bus
Beauvais - Tillé Airport Bus Line 6
An inexpensive local bus offers frequent service between central Beauvais (including the railroad station) and Beauvais-Tillé Airport.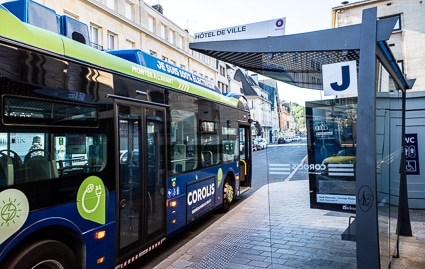 ABOVE: A Corolis Ligne 6 bus collects passengers at the Hotel de Ville in downtown Beauvais, France.
Beauvais-Tillé Airport (BVA) is the third airport of Paris and the 10th largest in France, serving passengers of more than half a dozen airlines--most notably Ryanair, which has about 80 percent of the airport's traffic.
BVA is located 85 km or 53 miles northwest of Paris and is easy to reach by frequent coach service from Porte Maillot on the captital's northwest edge. (The trip to or from Paris takes about 1 hour 15 minutes, depending on traffic.)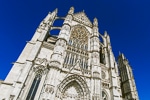 Although airport-bus service to or from Paris is convenient, we think it's even nicer to spend one or two nights in Beauvais at the beginning or end of your journey. The city of 55,000 is attractive and lively, with a spectacular cathedral that dates back to the 13th Century and was the world's tallest structure in the mid-1500s.
If you do choose to spend some time in Beauvais (as we hope you will), the Ligne 6 bus of Carolis, the local transit agency, will make it easy to get between the city center and the airport.
Frequency of service: Buses run from 7 or 7:30 a.m. (depending on the day of the week) until about 6:30 p.m. Service is about every 30 minutes on work days and once an hour on Sundays and holidays.
For current schedules, see the English-language pages at the Oise Mobilité Web site, where you can use a trip planner or download a timetable in PDF format. (Look for Beauvais Line 6.)
Fares and tickets: Pay on board. A clerk at the Carolis office told us the fare from Beauvais to the airport was €5,--, but the friendly bus driver insisted on charging us only €1,-- (the price of a local journey). Either way, the 20-minute journey is a bargain.
---
Bus 6 from Beauvais (Hotel de Ville) to Beauville-Tillé Airport
Bus No. 6 leaves from a stop just around the corner from the Hotel de Ville (a.k.a. the Mairie de Beauvais). Look for bus shelter "J" on the Rue de Malherbe, which is next to a sanisette or self-cleaning public lavatory. Board the bus at the front, say "Aéroport," and buy a ticket from the driver: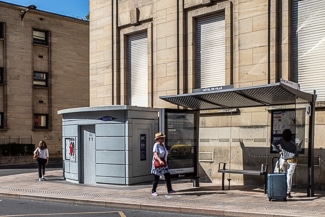 ---
The interior of the wheelchair-accessible bus is spacious, with plenty of room for luggage or a baby stroller: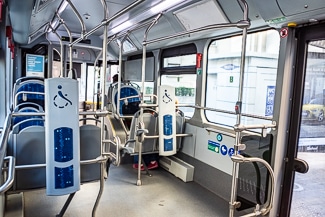 ---
The bus stops at various points along the route from Beauvais to Tille Airport. The most important stop is Gare SNCF, the main Beauvais railroad station: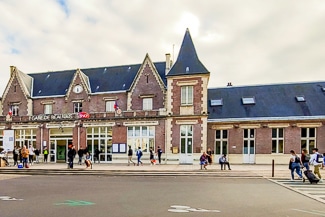 ---
After 19 or 20 minutes, you'll arrive at a stop between the two terminals at Beauvais-Tillé Airport: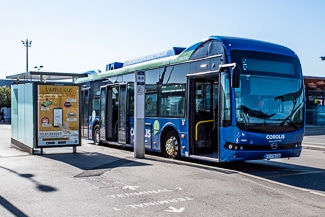 ---
Bus 6 from Beauvais-Tillé Airport to Beauvais (Hotel de Ville)
Look for the Carolis Line 6 bus stop, which has a shelter and signpost near the airport's car-rental building: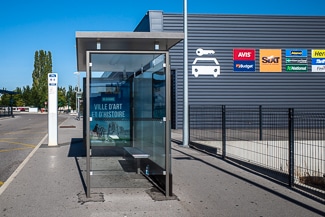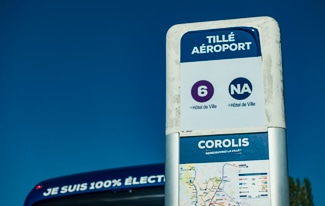 ---
Board the bus at the front, say "Beauvais," and buy a ticket from the driver. (Exact change isn't required, but you'll need to pay in euros.)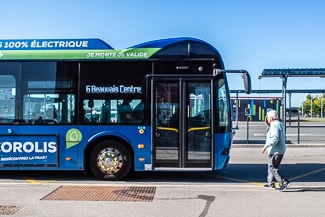 ---
The No. 6 bus has a number of stops between Beauvais-Tille Airport and central Beauvais, including one at SNCF Beauvais (the city's main railroad station):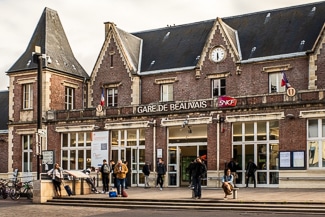 ---
The final stop is "Hotel de Ville" in downtwn Beauvais, around the corner from the Mairie or town hall and the Place Jeanne Hachette (the city's main square):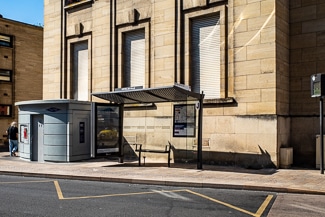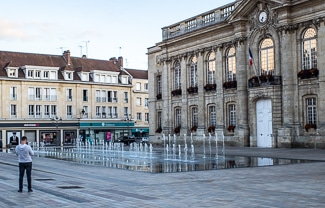 ---
---