Paris > Beauvais > BVA Airport
Beauvais-Tillé Airport - BVA
This small but well-equipped airport, also known as Paris-Beauvais Airport, is just outside the cathedral city of Beauvais. It's 80 km or 53 miles northwest of Paris and serves passengers of Ryanair, Wizz Air, and several other budget airlines.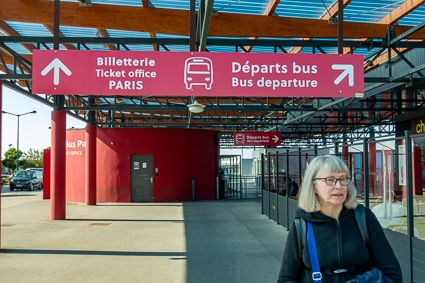 ABOVE: Buses to Paris depart from a station next to the two terminals at Beauvais-Tillé Airport.
---
When you travel to Paris on a low-cost carrier such as Ryanair or Wizz Air, you won't arrive in Paris: Instead, you'll land at Beauvais-Tillé Airport, also known as Paris-Beauvais Airport or BVA, which is located 80 km or 53 miles from Paris as the crow (but not the plane) flies. And while that may sound inconvenient, it's a blessing in at least one respect: BVA is an airport of manageable size, with short walking distances and little of the chaos that can make bigger airports frustrating.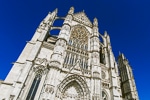 As a bonus, BVA is on the outskirts of Beauvais, an attractive city of 55,000 where you'll find a delightful main square with outdoor cafés, a spectacular Gothic cathedral, a number of other historic buildings and ruins, a museum, public markets, shops (including an indoor mall), a free outdoor light show on summer weekend nights, and other attractions.
In the Beauvais tourist office at 1 Rue Beauregard, you can get a free "Walk Beauvais" sightseeing brochure with a map of the city center.
The Beauvais town center and the airport are connected by a local bus, and frequent SNCF train service makes it easy to reach Paris Gare du Nord from Beauvais or vice versa.
You can also travel between BVA and Paris via airport coach, shuttle van, or taxi. (Shuttle vans also provide service to Disneyland Paris.)
---
Where to stay:
For listings of hotels in the area, see our affiliate partner pages at Booking.com: Beauvais and Booking.com: Tillé.
For more information about the airport--including flights and airport services--visit the official Beauvais-Tillé Airport Web site. The site is available in four languages: English, French, Italian, and Spanish.
---
Beauvais-Tille Airport photos:
BVA has two passenger terminals, T1 and T2. They're only about a minute apart on foot: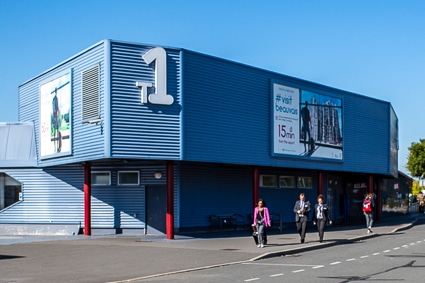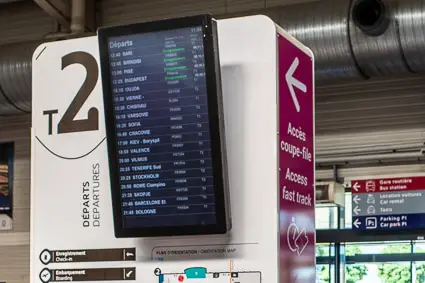 ---
Both terminals have the usual range of airport services, including a handful of shops and places to eat or drink: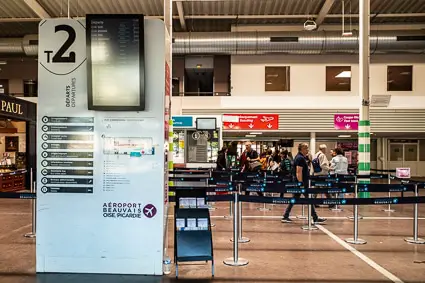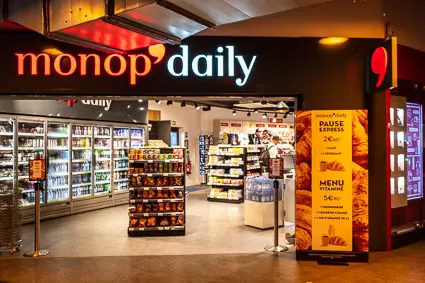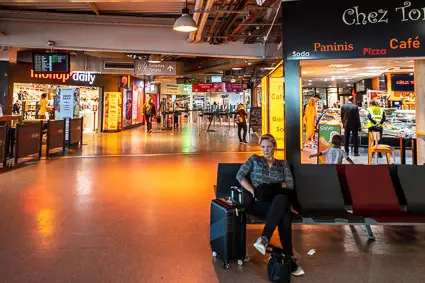 ---
Terminal 2 even has an open-air café beneath a glass canopy: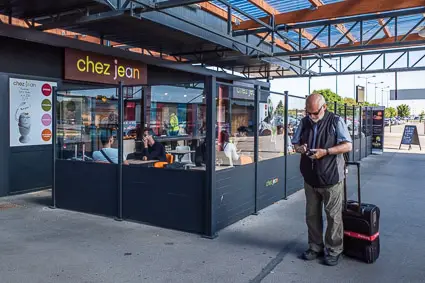 ---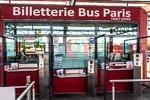 Buses to Paris - Porte Maillot depart from a station across from the two terminals. Travel time to Paris is about 1 hour 15 minutes in modern air-conditioned coaches with exterior luggage compartments.
 You can buy tickets from a window in the bus station or online.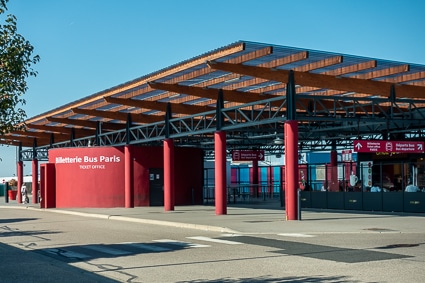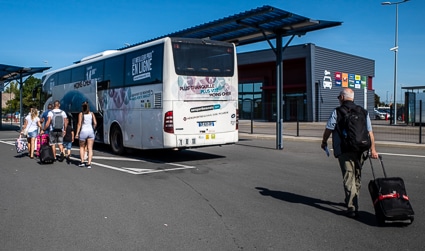 ---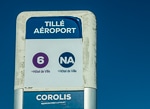 Local bus No. 6 offers frequent, inxpensive service to downtown Beauvais, with a travel time of about 20 minutes. You can buy your ticket from the driver. (You'll need euros to pay the fare, but the driver can make change for banknotes of reasonable size.)
Look for the Carolis bus sign on the pavement near the car-rental building across from Terminal 2.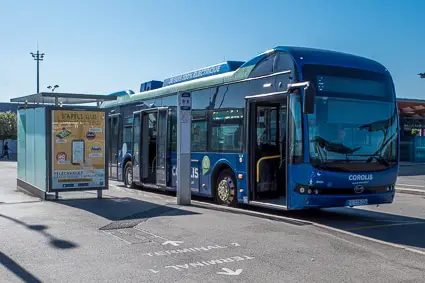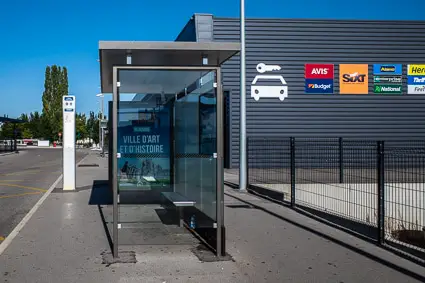 ---
---
About the author:

Durant Imboden is a professional travel writer, book author, and editor who focuses on European cities and transportation.
After 4-1/2 years of covering European travel topics for About.com, Durant and Cheryl Imboden co-founded Europe for Visitors (including Paris for Visitors) in 2001. The site has earned "Best of the Web" honors from Forbes and The Washington Post.
For more information, see About our site, press clippings, and reader testimonials.
---