Paris > Beauvais
Beauvais, France
The capital of Oise, in Picardy, is more than a budget-airline gateway to Paris. It's also a pleasant city of 55,000 with many local attractions, including one of France's great cathedrals.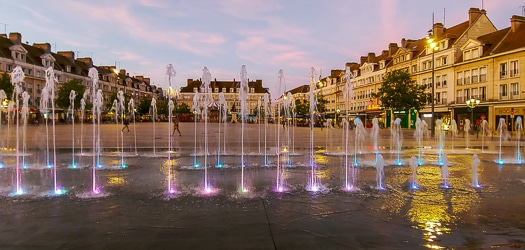 ABOVE: An early-evening view of the Place Jeanne Hachette in Beauvais, taken from the Hotel de Ville or town hall.
---
To many visitors, the name "Beauvais" is synonymous with "BVA," the international code for Beauvais-Tillé Airport, also known as Paris-Beauvais Airport.
BVA handles nearly 4 million passengers a year--80 percent of them arriving and departing on Ryanair, with the rest divided between other budget airlines such as Air Moldova, Blue Air, Laudamotion, SkyUp, and Volotea plus charter flights.
But there's a lot more to Beauvais than low-cost airlines. The city of 55,000 has a history that goes back to Roman times, as evidenced by the Gallo-Roman rampart (below) that still runs through the town center.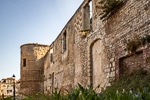 In the Middle Ages, Beauvais was a center of textile and tapestry manufacturing, and it was rich enough to build a cathedral, the Cathédrale Saint-Pierre, that was once the tallest stucture in the world.
Today, Beauvais is the capital of Oise (in the Hauts-France region), with a government-owned tapestry factory that weaves and repairs tapestries for the French state. The town has a prosperous feel and a healthy, lively downtown.
If you're flying in or out of Paris via Beauvais-Tillé Airport, we urge you to spend at least one night in Beauvais at the beginning or end of your trip. Beauvais offers a wonderful opportunity to sample small-city French life within easy reach of Paris. It's also a great spot for a mid-week or weekend getaway if you can nab a cheap air fare.
What to see in Beauvais: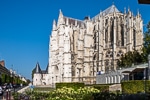 The city's biggest attraction is the Gothic Cathédrale Saint-Pierre, which was founded by the powerful Bishops of Beauvais in the 11th Century.
The cathedral's façade is a riot of stone sculptures and other details, and the interior is filled with light from magnificent stained-glass windows. And because Beauvais is off the main tourist track, you can enjoy the cathedral without being buffeted by tour groups.
In addition to the cathedral, Beauvais has a number of other attractive churches, the aforementioned Gallo-Roman rampart, MUDO (the museum of the Oise départment, shown below), various exhibition spaces, and the usual supply of statues, fountains, and public monuments.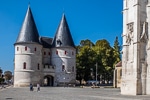 We recommend stopping at the Office du Tourisme, or Tourist Office, to pick up a free 12-page Walk Beauvais brochure with a city map.
How to reach Beauvais: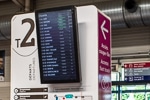 By plane: Beauvais-Tillé Airport (a.k.a. Paris-Beauvais Airport) is served by half a dozen budget airlines (see this article's opening paragraph) and occasional charter flights. Most passengers arrive and depart on Ryanair, which connects BVA to destinations in Ireland, the United Kingdom, and Continental Europe.
By train: SNCF, the French national railway, operates frequent trains between Paris Gare du Nord and Beauvais. Travel time averages 1 hour 20 minutes. For details, including SNCF timetable and booking links, see Paris - Beauvais / Beauvais - Paris by Train.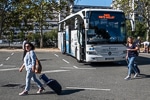 Airport ground transportation: Buses run between Paris-Beauvais Airport and the Porte de Maillot in Paris throughout the day, with schedules tied to flight arrivals and departures. Shared van shuttles and taxis are other options. See our Paris-Beauvais Airport Transportation article. If you're staying in Beauvais, our article on the city's local airport bus (Line 6) will also be helpful.
By car: See ViaMichelin: Beauvais for a choice of three driving routes. (The quickest is via the A16, which takes about 1 hour 15 minutes in good traffic.)
Where to stay:
Our hotel partner, Booking.com, has a good selection of hotels and B&Bs in and around Beauvais.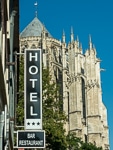 We stayed at the three-star Hotel de la Cathédrale, which has a perfect downtown location between the Place Jeanne Hachette and the Cathédrale Saint-Pierre. The hotel's optional breakfast is a good value.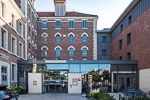 If you're driving, or if you prefer a full-service hotel with a restaurant and fitness center, the Mercure Centre Beauvais Cathédrale is a good choice. The four-star property belongs to France's Mercure hotel group. It occupies a renovated 19th Century flour mill on the edge of the city center, just west of the cathedral.
Dining and drinking: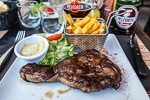 Beauvais has restaurants, cafés, crêperies, and  snack bars in all price ranges. In good weather, you'll probably want to enjoy a table in one of the outdoor restaurants downtown.
We enjoyed pleasant, reasonably-priced meals at Victor (on the Place Jeanne Hachette) and the Brasserie Les Halles at 10 Rue Pierre Jacoby.
Shopping in Beauvais: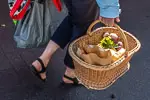 Beavais isn't especially known for shopping, but you'll find plenty of stores on and around the main square--including a branch of Galeries Lafayette, the upscale French department-store group.
A modern shopping mall, Le Jeu de Paume, is on the edge of downtown. It has 86 stores and restaurants, including familar brands such as H&M, Calzedonia, Sephora, and (at the lower end of the scale) Kilo Shop and McDonald's.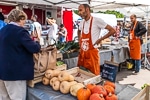 The city also has several outdoor markets, including a food, clothing, and furniture market in the Place Des Halles on Wednesday and Saturday until 2 p.m. See Shopping & Public Markets for captioned photos.
Finally, a Christmas Market takes place on the Place Jeanne Hachette from December 1 to December 31.
Next page: Beauvais Cathedral of Saint-Pierre
---
---
---
About the author:

Durant Imboden is a professional travel writer, book author, and editor who focuses on European cities and transportation.
After 4-1/2 years of covering European travel topics for About.com, Durant and Cheryl Imboden co-founded Europe for Visitors (including Paris for Visitors) in 2001. The site has earned "Best of the Web" honors from Forbes and The Washington Post.
For more information, see About our site, press clippings, and reader testimonials.
---