Paris > Beauvais > Paris trains
Paris to Beauvais (and Beauvais to Paris) by Train
From Paris Gare du Nord, it's just over an hour to Beauvais by SNCF, and trains run frequently in both directions.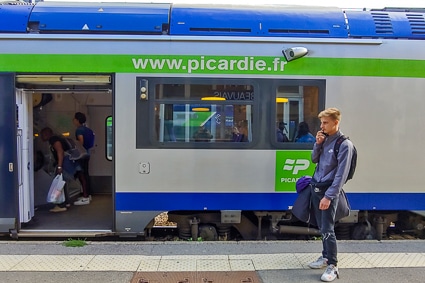 ABOVE: A train of the SNCF arrives in Beauvais from Paris Gard du Nord.
---
Beauvais, France is a pleasant and appealing city of 55,000 people that lies 85 km or 53 miles northwest of Paris. It's well worth visiting for its spectacular Cathédrale Saint-Pierre and other historic attractions. The city is also home to Beauvais-Tillé Airport (BVA), which is used by Ryanair, Wizz Air, and several other budget airlines.
If you're flying in or out of Beauvais, there's a good chance that you'll want to take the Beauvais-Paris airport bus, which connects BVA with Porte Maillot in Paris. (Travel time is about 1 hour 15 minutes, depending on highway traffic.) But another option, if you're spending time in Beauvais, is a train of the SNCF or French National Railways. Trains run at least 15 times per day, the trip averages 1 hour 21 minutes, and fares are quite reasonable.
In the sections below, we've provided information on getting from Paris to Beauvais and from Beauvais to Paris by train. We've also included links to an SNCF Paris-Beauvais Web page and Google Maps of Beauvais.
---
Paris to Beauvais:
Trains to Beauvais leave from Gare du Nord in Paris--often from Platform 19, but check the station monitors to be sure.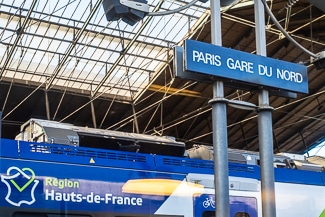 ---
If you have luggage, look for a bicycle car (marked by a large graphic of a bicycle on the side of the carriage). These cars have plenty of open space for your bags.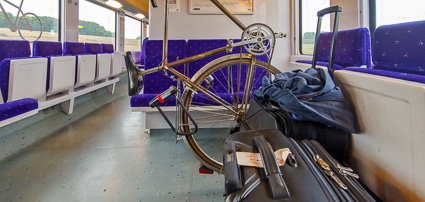 ---
Your destination will be the Gare SNCF in Beauvais, which is the city's main railroad station. It's located at the edge of the city center, on the Avenue de la République.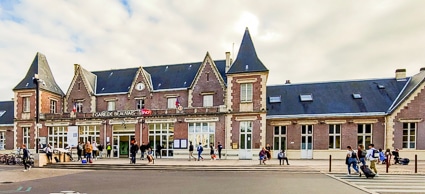 ---
From the station, you can walk 15 minutes over level ground, ride a public bus (shown below), or hire a taxi to the city center.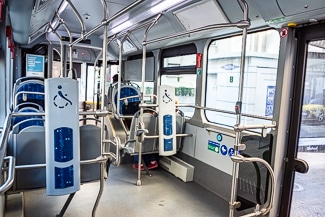 ---
Beauvais to Paris:
It's easy to walk to the station from central Beauvais, but if you prefer public transportation, take the bus or hire a taxi.
You can buy train tickets in the railroad station if you didn't get them online.
---
Related Web links:
SNCF-Connect Itinerary Planner
Use the French National Railways journey planner to plan a trip from Paris to Beauvais or vice versa.
Google Maps: Beauvais
On this map, a red marker indicates the Beauvais railroad station. Landmarks in the city center include the Cathedrale Saint-Pierre, the Place Jeanne Hachette, and the Mairie de Beauvais (a.k.a. the Hotel de Ville). Also see the satellite view and zoom in for a closer look. If you're walking, follow these Google Directions, which will lead you to downtown Beauvais.
---
---
About the author:

Durant Imboden is a professional travel writer, book author, and editor who focuses on European cities and transportation.
After 4-1/2 years of covering European travel topics for About.com, Durant and Cheryl Imboden co-founded Europe for Visitors (including Paris for Visitors) in 2001. The site has earned "Best of the Web" honors from Forbes and The Washington Post.
For more information, see About our site, press clippings, and reader testimonials.
---