Paris > Food > Boulangerie Veronique Mauclerc > Photos
La Boulangerie par Véronique Mauclerc
Page 2
Continued from page 1

Instead of conventional dough hooks, Véronique Mauclerc's mixer has kneading tools that simulate the action of human hands.
---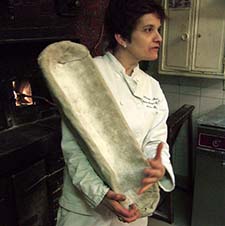 Véronique Mauclerc shows off one of the cloth-lined baskets where loaves of bread rise before baking.
---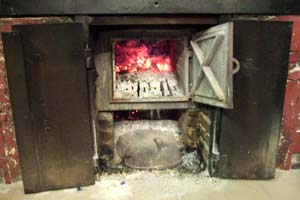 In this photo, the firebox doors are opened to show the burning wood beneath the oven.
---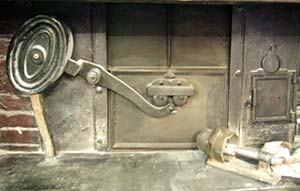 The oven, which dates back to the early 20th Century, has an elaborate mechanism for opening and closing its doors.
---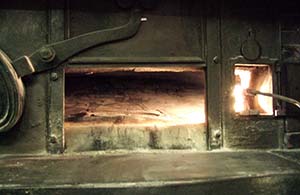 Opening the door reveals how shallow the oven is, compared to the surrounding firebox and structure.
---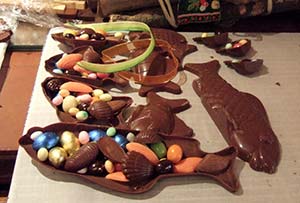 All bread and no chocolate makes Jacques a dull boy, so La Boulangerie par Véronique Mauclerc has a nice range of candies and pastries (including these Easter fish with chocolate eggs and other goodies inside).
---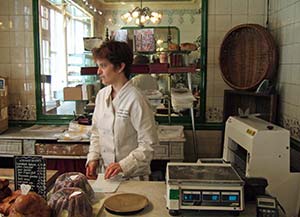 When Véronique Mauclerc isn't baking, she's often in the front of the shop, greeting her customers and arranging for deliveries of her organic bread to Parisian outdoor markets. (Her bread recently earned her a "Best Baker in Paris" award from the French-language Pudlo Paris Guide.)
Mlle. Mauclerc, who comes from the Champagne region, spent four years learning her craft: two years in boulangerie, and two years in patisserie. She has been a baker for nearly 20 years and started La Boulangerie par Véronique Mauclerc in 2005.
Back to: La Boulangerie par Véronique Mauclerc
---
---
---