Paris > Museums > Medieval Louvre
Medieval Louvre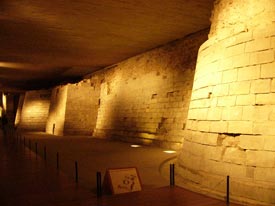 ABOVE: Foundation walls line an empty moat beneath the Louvre Museum.
---
The Louvre Museum has been a "Grand Gallery" since 1793. But long before it became a public museum, the Louvre was a fortress dating back to the reign of Philippe Auguste, the French king who paved the streets and built the walls of Paris.
Thanks to archaeological excavations in the mid-1980s, a "Medieval Louvre" exhibition beneath the Louvre Museum's Coeur Carré courtyard now lets visitors explore the ruins of the castle that existed from 1190 AD until the early 16th Century, when the keep was torn down to make way for the Renaissance palace that survives as the Musée du Louvre.
The Medieval Louvre is on the lower level of the museum's Sully Wing. Since 2016, the excavations have been part of a larger exhibit about the palace and its history that was created at a cost of €7 million. Admission is included in your Louvre ticket.
For details, including the museum's opening times and ticket prices, visit the Louvre's Pavilion de l'Horloge (Clock Pavilion) page. The museum's History of the Louvre is also worth reading.
---
More photos: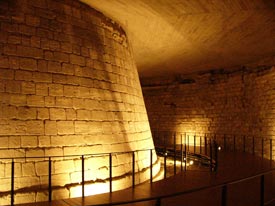 The
Grosse Tour

, or keep, was 30 meters high and 15 meters across in its heyday. It was used as a fortress and arsenal.
Except for the foundations shown here, the tower was demolished in 1527 during the reign of François I.
---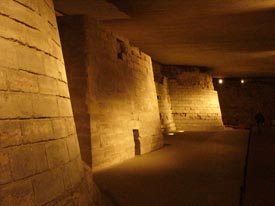 A footpath leads visitors through the excavated ruins beneath the Louvre's Sully Wing.
---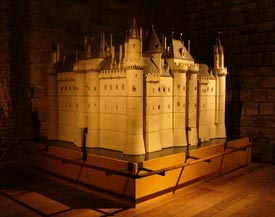 A model shows the Louvre of Philippe Auguste. The medieval fortress was similar in style to the Conciergerie, with 10 towers, high walls, and a moat.
---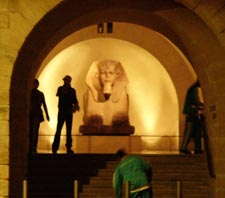 The Medieval Louvre excavations are in the museum's Sully Wing, next door to the Egyptian Collection.
---
---
About the author:

Durant Imboden is a professional travel writer, book author, and editor who focuses on European cities and transportation.
After 4-1/2 years of covering European travel topics for About.com, Durant and Cheryl Imboden co-founded Europe for Visitors (including Paris for Visitors) in 2001. The site has earned "Best of the Web" honors from Forbes and The Washington Post.
For more information, see About our site, press clippings, and reader testimonials.
---