Paris > Museums > Fragonard Perfume Museum
Fragonard Perfume Museum
Musée du Parfum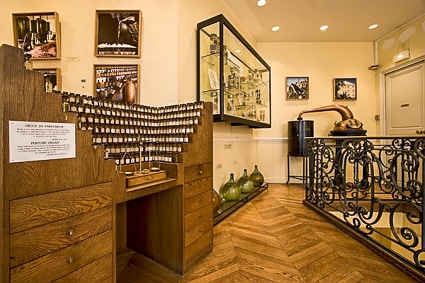 ABOVE: Fragonard's Musée du Parfum occupies a mansion from the era of Napoleon III. INSET BELOW: A perfumer's orgue à parfum, and the museum entrance at 9 rue Scribe near the Opéra Garnier.
By Durant Imboden
France has been a world center of the perfume industry since the 17th Century, when Louis XV's court at Versailles was known as "le cour parfumée." Over the centuries, French perfumers have developed techniques for making fragrances from flowers, leaves, mosses, herbs, spices and other ingredients. One such maker, Parfumerie Fragonard, shares its knowledge with the public--free of charge--at the Musée du Parfum in Paris.
Fragonard's Perfume Museum occupies two stories of 19th Century townhouse on rue Scribe in the 9th arrondissement. After entering on the ground floor, you head upstairs to a series of large rooms with a mixture of period furnishings and perfume exhibits.
Displays show the history of perfume manufacturing and packaging from ancient times, and how natural ingredients are combined with fats and other substances to create modern perfumes.
(If you've ever wondered why good perfumes are expensive, consider this: It takes 200 kg or 440 pounds of lavender flowers to produce 1 kg or 2.2 pounds of lavender extract for use in perfume.)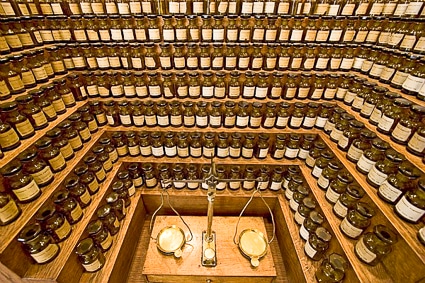 One of the more intriguing exhibits is the orgue à parfum, or "perfume organ," so called because it resembles the keyboards of a seven-manual cathedral organ with its tiered rows of ingredient bottles arranged around a balance or scale that the perfumer uses when mixing and testing fragrances.
Other interesting devices include stills (for steam distillation of perfume extracts) and glass frames that were coated with fat and flowers in the traditional "cold maceration" process.
After you've toured the museum, you'll exit through the Fragonard perfume boutique, where you can spray yourself (or small slips of paper) with perfume samplers that are arranged on tables. There's no sales pressure, although you're welcome to buy perfume at the display counters if you wish.
Where and when to visit: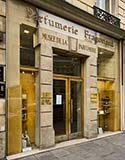 Parfumerie Fragonard and the Musée du Parfum are at 9 rue Scribe, near the Opéra station of the Paris Métro, the Opéra Garnier, and the Paris Story audiovisual show.
Hours are 9 a.m. to 6 p.m. Monday to Saturday (9 a.m. to 5 p.m. on Sundays and holidays) year-round. Admission is free, and so are the English-language guided tours.
For more information, and to double-check hours of operation at the time of your visit, see:
Fragonard.com: Paris - The perfume museum rue Scribe and boutique
---
---
Photos copyright © Paris Tourist Office. Photographer: Marc Bertrand.