Paris > Sightseeing > Conciergerie
La Conciergerie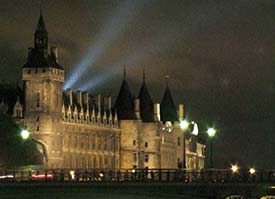 ABOVE: A night view of the Conciergerie from the Right Bank of the Seine, with the Eiffel Tower's rotating beacon shining over the roof and chimneys.
By Durant Imboden
In the aftermath of the French Revolution, nearly 2,800 prisoners were beheaded on the Place de la Concorde--among them, the queen Marie-Antoinette, who was guillotined on October 16, 1793. Like her fellow victims, Marie-Antoinette spent the final days of her life in La Conciergerie, a prison within the medieval royal palace whose remnants were absorbed into today's Palais de Justice complex, which was built in the 1700s.
The former prison is on the Ile de la Cité, a short walk from Notre-Dame Cathedral and just around the corner from the former royal church of Sainte-Chapelle. Armed with the map that you get with your ticket, you can visit the guardroom, the executioner's walkway, the prisoners' gallery, a row of reconstructed cells, the women's courtyard, and an audiovisual presentation that depicts prison life.
A popular highlight of the visit is Marie-Antoinette's recreated cell on the site of her original prison quarters, complete with furnishings and mannequins that represent the queen and a guard.
Visitor information:
La Conciergerie is open daily year-round, with hours varying by season. Buy your tickets at 1 quai de l'Horloge, where you can also obtain an audioguide or check the schedule of guided tours.
The prison is easy to reach from nearby Métro and RER stations or by bus. (The closest underground stop is Cité, on Métro Line 4. If you're coming by Batobus on the Seine, get off at Notre-Dame.)
For more historical and practical information, visit the Conciergerie's official English-language Web site from the Centre des Monuments Nationaux.
---
More photos of the Conciergerie: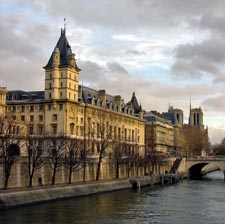 The Conciergerie is in the Palais de Justice on the Ile de la Cité, where it can be seen from the Right Bank of the Seine.
---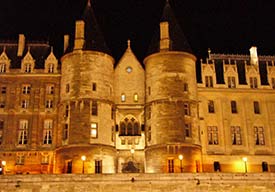 This picture was taken at night from a Seine sightseeing boat.
---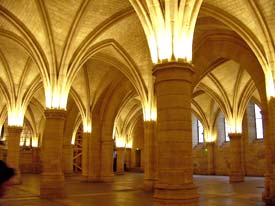 The Salles des Gardes, or Guardroom, dates back to the early 14th Century.
---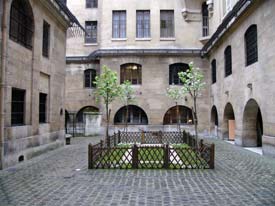 During the French Revolution, female prisoners exercised in the Women's Courtyard while awaiting trial (and, in many cases, execution).
---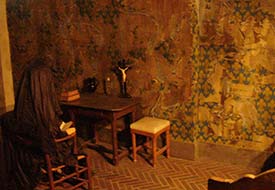 Marie-Antoinette's dimly-lit cell has been decorated to resemble what it might have looked like during her two months of imprisonment in 1793.
---
---