An Apartment in Montmartre
Page 3
Continued from page 2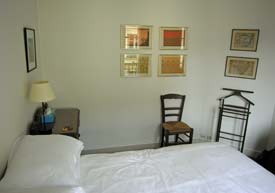 ABOVE: The bedroom has a queen-sized bed and a view of the steps leading up to Sacré-Coeur. INSET BELOW: A long hallway leads past the kitchen to the main living area.

The apartment
The St. Pierre apartment was one of three flats on the fifth floor (in American lingo, sixth floor) of an elevator building between Sacré-Coeur and the Anvers Métro stop. (The park and steps leading up to the Basilica were less than half a block from our entrance door on the Rue de Steinkerque.)
From the fifth-floor landing, our door opened into a long hallway that led past a small kitchen and a toilet room. To the right of the hall was a living room with a balcony overlooking the street; to the left were a large dining room/library and--just beyond--a bedroom, both with views toward Sacré-Coeur. Between the dining room and living room, a door led into the bathroom with its sink and sabot bathtub/shower stall.
Although the St. Pierre apartment had only one bedroom, the living room could easily have doubled as a second bedroom, thanks to a door and a double sofa bed. (The sofa in the dining room can be used to accommodate a fifth guest.) The apartment felt very spacious, with a great expanse of polished wood floors and plenty of light from the many windows. We fell in love with the apartment immediately, although we probably would have added a small sink to the toilet room if we'd been the owners.
For more information on the St. Pierre apartment and its amenities, see our captioned photos:
Next page: More photos (with captions)
---
---
---
---