Sacré-Coeur
By Durant Imboden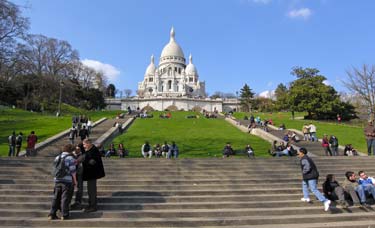 ABOVE: Tourists and local teenagers hang out on the steps below the Basilica of Sacré-Coeur in Montmartre. INSET BELOW: A side view of the Basilica and its Campanile, or bell tower, which was added in 1904.
The Basilica of Sacré-Coeur is probably the second most popular tourist church of Paris after Nôtre-Dame Cathedral. It's far less important historically (or in terms of architecture) than either the cathedral or the former royal chapel of Sainte-Chapelle, but if you're visiting Montmartre--as you should do--it would be a mistake not to wander through the basilica and enjoy the views from its steps.

By Parisian standards, Sacré-Coeur isn't very old: It was begun in 1875 and consecrated in 1919, following a long struggle with unstable subsoil and problems caused by Montmartre's underground gypsum quarries.
The mock Roman-Byzantine church is made of a stone from outside Paris that whitens and hardens upon exposure to air. It still engenders resentment among Parisians who regard Sacré-Coeur as a whitehead on the face of Paris and a slap at the Communards who were buried alive in Montmartre's gypsum mines during the uprising of 1871. (See Wikipedia's article for more on the basilica's history.)
If you're devoted to the cult of the Sacred Heart, a visit to Sacré-Coeur will be a moving experience; if you don't, you may feel that the church is a monument to your great-grandmother's brand of Catholicism and an over-the-top expression of religious theme-park architecture. Still, it's too big and visible to ignore, and the views from the platform in front of Sacré-Coeur and the base of its dome are hard to beat.