Michele Vannoni
Paris Rental Connections
Continued from: An Apartment in Montmartre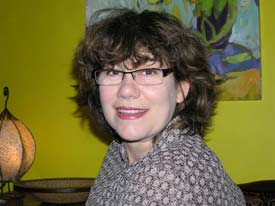 ABOVE: Michele Vannoni, a former music-industry executive, is the founder and owner of Paris Rental Connections.
We asked Michele Vannoni, who rented us the apartment in Rue de Steinkerque, to describe her background and Paris rentals business. Here's what she had to say:
---
by Michele Vannoni
I was born in Paris (English mother and French father) and grew up in South of France, Australia, the US and London - I lived in Paris for many years then came back to London but never really left Paris.... I still have most of my friends there and commute regularly.

I've been living in London since the late 80's, but my old work in the music business as head of international promotions for CBS (Sony Music) took me all over the world, so I've been travelling for the best part of my life. I worked at Sony for many years and felt I needed to do something new and wanted it to be my own business.

The change came about when I bought a flat in Paris. I spent a lot of time booking it and then found that I really enjoyed the contact with people who were coming over to Paris on vacation. I enjoyed telling them about Paris and helping them with their trip.

Meanwhile the music business changed drastically with the impact of the internet--the downloading of music seriously changed the face of the recording industry. By this time, I was working freelance in music, so it was an easy step to make. Home Rental Connections was born at a time when the internet became and essential tool for vacation rental bookings--travellers could instantly see the flat they were going to rent and could now book online too.

I run the business from London, where I recently started a London vacation rentals business. This may seem strange, but with today's communication technology it's easy--and thanks to Eurostar! I go to Paris regularly and am able to see a lot of the guests. In Paris I have an agent who meets all the clients when they arrive and who coordinates the cleaners.
Where to rent
For guests wondering which area to choose from in Paris I would say that there is no One area because Paris is such a small city compared to others in Europe and certainly compared to US cities - you can easily walk from one side of Paris to the other - and each area has it's own distinct feeling and history. The apartments I look after are usually very central and near a metro - which you could say describes everywhere in the Paris "intra mural" ! - Paris like all medieval cities was once walled and the doors to enter the city are still there in name at least: Porte D'Orleans to the south, Porte Maillot to the West, Porte d'Italie, Porte de la Chapelle etc.

The other factor is that there is something worth visiting in most areas of Paris.

My own apartment, the "Montmartre Vineyards," is in Montmartre, an area of Paris with the charm of an old French village, where a lot of the locals really have lived there all their lives. It is dotted with quaint steps leading higher and higher until you reach the crown: the Sacré Coeur - which incidentally is made of a special stone, which whitens each time it rains. This brilliant white dome atop Montmartre's hill is a welcome site that most visitors see when they first approach Paris from the airport.
The other apartments in Montmartre are "St Pierre Sacré Coeur," "Lamarck Real Paris," and "République de Montmartre."

Then you have areas like the Marais, which is a mix of the poorer old Jewish quarter and the luxurious royal areas like the Place des Vosges, with splendid "Hotels Particuliers" - once the abode of rich noblemen and women. The Hotel Particuliers have huge entrance doors leading into large private inner courtyards where once upon a time you would have driven straight through in your horse drawn carriage. 17th Century Maison is in a Hotel Particulier.

From the Marais you can easily walk to a lot of the tourist sites like Notre Dame, Ile St Louis, The Louvre, St Germain and museums like Picasso, Pompidou centre and Carnavalet. But what is great in Paris is that it's not so much the museums and well known sites that people are enchanted by it's the fact that wherever you walk and look you are living in a splendid antiquated city that is pulsating with life today and it doesn't matter which street you walk down you know that great and dramatic things have happened - there are still holes in walls where the Gestapo killed resistance fighters in the second world war.
All the buildings tell their story in their beauty and scars.

Apartments we look after in the Marais are: "17th Century Maison," "Sévigné," "Beautreillis," "Tournelles," "Turbigo," and "Rue au Maire."

Another area that is great for tourists is the West of Paris - here you have easy access to the Eiffel Tower, the Champs Elysees, Arc de Triomphe and Musee d'Orsay and the top fashion houses on the Avenue Montaigne.
We have an apartment at Porte Maillot which is a very handy place to stay as a lot of low cost carriers use the Beauvais airport. The airport is miles out of Paris but the coach drops you at Porte Maillot so you can enjoy all the West of Paris sites and then hop onto the fastest metro line 1 to take you anywhere else. [Editor's note: See our Beauvais Airport Transportation article.]
The apartments in this area are Paris Chic at Porte Maillot, St Dominique, Passy, Mariotte.

In terms of renting apartments for your trip to Paris, book as early as you can, because the city is very busy from April to September and over Christmas and New Year. August is usually quieter than July and September and is also a great time to come to Paris as Parisians leave the city in droves and you can bring a car and cross Paris in 5 minutes as there is neither traffic nor traffic wardens!
There are also certain busy weeks when all hotels are also booked when a special event is happening in Paris - the fashion shows or other exhibitions, if we can't accommodate you we will recommend you to a network of other renters whom we trust.

We are currently improving our booking process and payment system. Payment is already possible by credit card and we will soon be able to accept direct credit card payments on the site.

Our policy is to make renting from us as friendly easy and straight forward as possible and to make sure you have the most wonderful memories of your stay in Paris!
Some further info:
One of my main contacts and source of apartments is Marie-Pierre Saint Martin of www.parisdreamhome.com who has a "Paris apartment search" service for english speakers who want to buy in Paris.

I am also greatly helped by Gail Boisclair of www.perfectlyparis.com who also runs her own vacation rental business in Paris specialising in Montmartre and who inspired and pushed me to launch Paris Rental Connections by sending me many clients.
To check out our apartments, go to www.parisrentalconnections.com and either select from the home page the number of bedrooms or go to the Apartments page and select the area you prefer.
Michèle Vannoni
Paris Rental Connections
Back to: An Apartment in Montmartre
---
---
---
---