Paris > Sightseeing > Opéra Garnier > Photos
Opéra Garnier
Page 2
Continued from page 1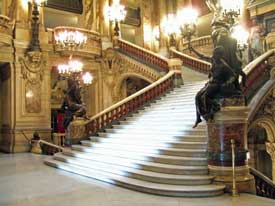 ABOVE: A view of the grand staircase in the Palais Garnier.
Opéra Garnier Photos
On this page, we've provided a random assortment of captioned photographs from the Palais Garnier.
If you'd like pictures for your own use, visit the gift shop on the ground floor. It has an excellent selection of postcards and an inexpensive but beautifully illustrated souvenir book, Palais Garnier: National Opera of Paris from the Éditions du Patrimoine series published by Monum, a.k.a. the Centre des Monuments Nationeaux in France.
---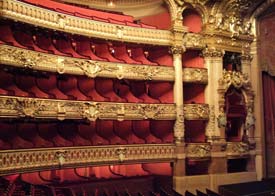 The interior of the auditorium is lined with gilded boxes on the dress circle and balcony levels.
To see the auditorium, head to the top of the grand staircase and look for wooden doors that lead into the boxes. Several boxes are usually left open for visitors.
---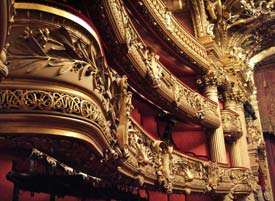 The heavily gilded boxes are supported by a cast-iron structure. (Indeed, most of the auditorium is made of cast iron, with gold, velvet, and marble decoration hiding the structural underpinnings.)
---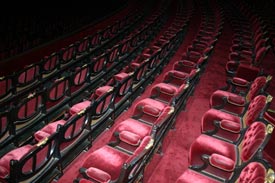 Below you, on the orchestra level, are curving rows of seats. (The opera's seats have been red from the beginning, on the theory that red is flattering to women's complexions.)
---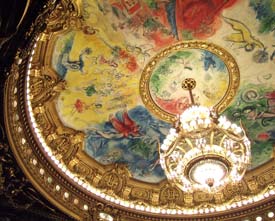 Look up, and you'll see the ceiling that Marc Chagall painted in 1964 at the request of André Malraux, who was France's minister of culture in the Gaullist era.
In contrast to Chagall's painting, the bronze-and-glass chandelier is original. The seven-ton fixture was designed by Charles Garnier and contains 340 lights.
---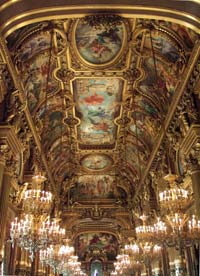 The Palais Garnier's most florid decoration is outside the auditorium, in the grand foyer. This long, narrow room is covered with 33 paintings over 500 m˛ or nearly 5,400 square feet, which the artist Paul Baudry completed over a nine-year period. Nearby, various rotundas, galleries, and smaller foyers keep guests occupied during intermissions.
---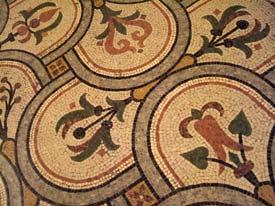 As you wander through the building, take time to enjoy the mosaic floors. (Some parts of the Palais Garnier are paved with inlaid marble; the building's interior uses 24 varieties of marble from different areas of Europe.)
---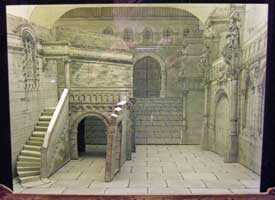 The Palais Garnier also has a museum and library (no extra charge) with set models, drawings, and costumes from the Opéra's long history. The museum's entrance is on the orchestra level, facing the left side of the audiorium. (Some of our favorite costumes in the museum were designed by Christian Lacroix, the Parisian couturier.)
---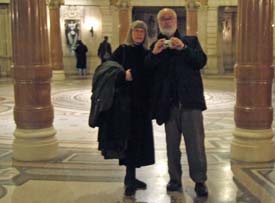 Tip for tourists without selfie sticks: For an inexpensive souvenir of the Opéra Garnier, turn off your camera's flash and take a picture of yourself (or yourselves) in the mirrors on the walls and ceiling of the season ticket-holders pavilion beneath the auditorum. This rotunda, which feels like an elegant crypt, is behind the grand staircase and to your right.