---
Opéra Garnier
Page 3
Continued from page 2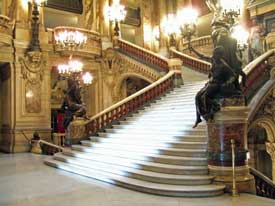 ABOVE: Two views of the grand staircase in the Palais Garnier.
Opéra Garnier Photos
Here and on the following pages, we've provided a random assortment of captioned photographs from the Palais Garnier.
If you'd like pictures for your own use, visit the gift shop on the ground floor. It has an excellent selection of postcards and an inexpensive but beautifully illustrated souvenir book, Palais Garnier: National Opera of Paris from the Éditions du Patrimoine series published by Monum, a.k.a. the Centre des Monuments Nationeaux in France.