An Apartment in Paris
Cooper Paris Flats
Page 4
Continued from page 3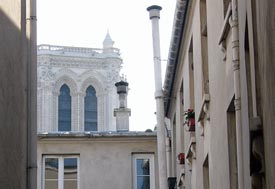 ABOVE: One of Nôtre-Dame's towers was visible from our terrace.
Advice for renters
Apartments vs. hotels: An apartment can be cheaper than a hotel, but checking in takes longer, you'll be responsible for your own daily cleaning, and you'll spend more time on basics like buying breakfast and doing the dishes. On the plus side, you'll have a kitchen and a sense of what it's like to live in Paris. Our advice: If you want to be pampered, choose a hotel; if you like being a homebody away from home, opt for a self-catering flat.
Apartment size: You'll need at least a one-bedroom apartment if you're traveling with children; if you're a group with more than two adults, we'd recommend splurging on a two-bedroom apartment instead of consigning one or more adults to a sofa bed. Studios tend to be small, but they're a good value for singles, couples on a budget, or travelers who don't plan to spend much time in the apartment.
Price: The cost of renting an apartment varies according to location, the number of bedrooms and bathrooms, etc. Rental rates are usually by the week, and if you rent for a month or longer, you'll get a substantial discount.

Bathtub vs. shower: Not all apartments have tubs, which are useful for soaking sore muscles and feet after a long day of sightseeing. (But showers can be luxurious, too: Ours had both a large conventional shower head and a handheld sprayer.)
Elevators: Some apartments have elevators, but many are walk-ups (as is typical in Paris). If stairs bother you or you can't manage heavy luggage, look for a flat with a lift.
Picking a neighborhood: We're habitual walkers, and we liked our apartment's location on the Île de la Cité because it was convenient to both the Left and Right Banks. However, restaurant and shopping opportunities were limited, and the neighborhood was fairly dead at night. So when you examine the list of apartments at Cooper Paris Flats (or anywhere else), consider which neighborbood is best suited to your own tastes and needs.
For example, if you're interested in upscale shopping, you might prefer an apartment in the 1st, 2nd, or 8th arrondissement on the Right Bank. If you're attracted to hip restaurants, trendy cafés, or the gay scene, the Marais (3rd and 4th arrondissements) is likely to be a good choice.
On the Left Bank, the 5th and 6th arrondissements are dotted with literary landmarks, student haunts, and restaurants in all price categories; next door, the upscale 7th arrondissement (Invalides and the Eiffel Tower) is popular with American expats and visitors.
For a longer stay, you might want to consider a residential neighborhood away from the center, especially if you prefer the Métro to walking. Click the neighborhood postal codes on Glenn Cooper's property listings page to learn more about the districts where his apartments are located.
Related Web site:
Rentals in Paris - Cooper Paris Flats
Glenn Cooper (see sidebar) owns or manages more than two dozen furnished apartments in 10 neighborhoods.
Note: We don't get commissions or referral fees from Cooper Paris Flats.
Next page: About our landlord: Glenn Cooper
---
---