Paris > Transportation > CDG airport > CDGVAL
CDGVAL
Automated shuttle trains at Charles de Gaulle - Roissy Airport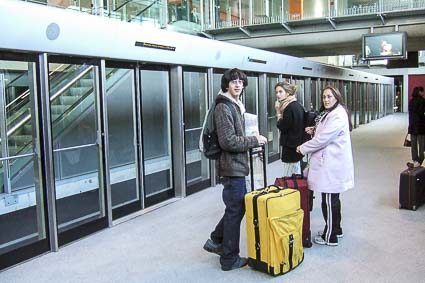 ABOVE: Passengers await a train at the CDG1 RER station in Charles de Gaulle airport. INSET BELOW: The shuttle trains are similar to those of the Orlyval line at Orly Airport.
---

CDGVAL driverless trains connect terminals, parking garages, and train stations at Charles de Gaulle Airport (known to most Parisians as "Roissy," the name of the adjoining suburb).
Stops on the CDGVAL line include:
Terminal 1, the original circular terminal at CDG;

Parc PR (a parking garage)

Terminal 3/Roissypole (with its SCNF railroad station and the RER's CDG1 station)

Parc PX (another parking garage)

Terminal 2 station complex (TGV high-speed trains and the RER's CDG2 station).
Transportation is free, and travel time from one end of the line to the other is 8 minutes.
Related articles at Paris for Visitors:
Charles de Gaulle Airport Ground Transportation
Here's how to reach the city from Roissy by RER train, bus, door-to-door shuttle, or taxi.
Orly Airport Ground Transportation
How to reach central Paris or CDG from Orly Airport by train or bus, with connections to the RER and Métro.
Beauvais Airport Transportation
Several budget carriers (most notably Ryanair) serve BVA, which is located 80 minutes from Paris by bus.
Paris RER
The Réseau Express Régional is a commuter-rail system that connects with the Métro. RER destinations outside the city include CDG Airport, Versailles, and Disneyland Paris.
Paris Métro
The Paris underground system has 380 stations and 14 lines with 211 km (130 km) of track. Our illustrated article tells how to buy tickets and ride the trains.
---
About the author:

Durant Imboden is a professional travel writer, book author, and editor who focuses on European cities and transportation.
After 4-1/2 years of covering European travel topics for About.com, Durant and Cheryl Imboden co-founded Europe for Visitors (including Paris for Visitors) in 2001. The site has earned "Best of the Web" honors from Forbes and The Washington Post.
For more information, see About our site, press clippings, and reader testimonials.
---