Paris Dog Cemetery
Le Cimetière des chiens d'Asnières-sur-Seine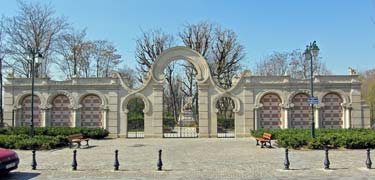 ABOVE: The Art Nouveau entrance to the Cimitière des Chiens dates back to the cemetery's opening in the late summer of 1899.
By Durant Imboden
The celebrated Parisian cemeteries of Père Lachaise, Montparnasse, and Montmartre have long been popular attractions with thanatophilic tourists--but for the pet fanciers among us, the Cemetery of Dogs (said to be the world's oldest public pet cemetery) may be the most appealing graveyard in France.

Le Cimetière des Chiens lies just outside the city, in the suburb of Asnières-sur-Seine. It's easy to reach via the Métro and a short walk (see our illustrated directions), and if you've got time, it offers a pleasant break from more crowded tourist attractions in central Paris.
A bit of history
The Cimetière des Chiens owes its beginnings to a law that was passed in 1898, when the Paris city government declared that dead pets couldn't just be tossed out with the trash or dumped in the Seine, but had to be buried in hygienic graves at least 100 meters from the nearest dwelling.

Attorney Georges Harmois and journalist Marguerite Durand quickly conceived the idea of a "cemetery for dogs and other domestic animals" on the outskirts of Paris. In June, 1899, digging began on a narrow parcel of riverfront land in Asnières-sur-Seine.
The new cemetery opened for business that summer, and over the years more than 40,000 animals have been buried in the Cimetière des Chiens--not just dogs, but also cats, a racehorse, a lion, a monkey, and domestic animals such as rabbits, hamsters, mice, birds, and fish.
What you'll see
The Cimetière des Chiens is a long, narrow cemetery with attractively landscaped grounds that overlook the Seine. The neatly laid-out rows of graves include tombstones and other monuments from the late 19th Century to the present day, many with statues or photos of beloved pets.

You'll find a large monument to Barry (the world's most famous St. Bernard), a tomb for police dogs, and a monument to the 40,000th animal buried within the graveyard's walls (a stray dog that was run over by a car near the cemetery gates in 1958). You'll also encounter plenty of living cats, who live in a shelter on the grounds and like to sun themselves on the tombs.
In the next few pages, we've provided visitor information and captioned photos of the Le Cimetière des chiens d'Asnières-sur-Seine. We recommend a visit for anyone who's fond of animals--and especially for families with young children, who may find a pet cemetery more interesting (and less overwhelming) than the great human nécropoles of Paris.
Next page: Visitor information, directions
---
---