Hotel della Torre Argentina
Hotel Review
Page 2
Continued from page 1
By Durant Imboden
More photos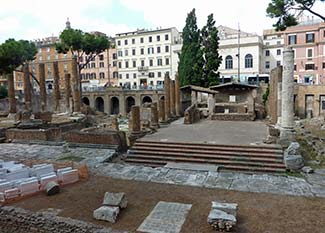 The Hotel della Torre Argentina is a few meters west of the Largo di Torre Argentina, a square with the ruins of four Roman temples that were excavated in the 1920s.
---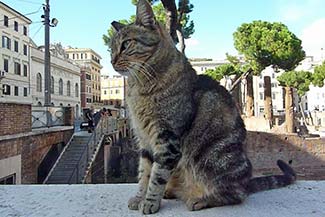 The square also houses the Torre Argentina Cat Sanctuary, a shelter for about 350 cats that are free to explore or take naps in the ruins.
---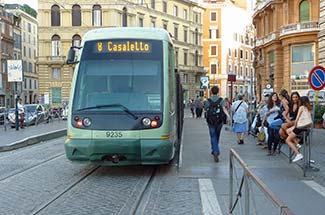 On the western side of the Largo, alongside the ruins, the No. 8 tram line offers direct service to the district of Trastevere and its railroad station (where you can catch trains to Fiumicino Airport and the cruise port of Civitavecchia).
---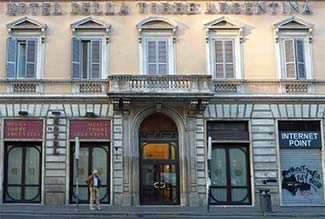 The Hotel della Torre Argentina's entrance faces the Argentina bus stop on the Corso Emanuele Vittorio II. (You can reach the hotel on public bus 40 from Termini Station.)
---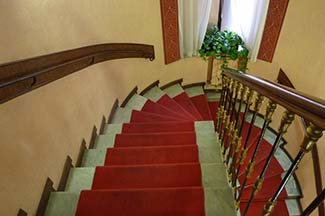 The hotel has an elevator, but the red-carpeted marble staircase is a handsome alternative to the lift.
---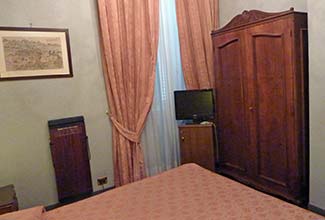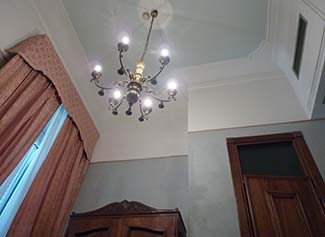 My room was a double sold as a single. Its decor was a little old-fashioned, with a wood armoire, wooden doors, an extremely high ceiling, and an electric trouser press. (Note the chandelier, which provided decent illumination, and the duct for the built-in air conditioning system.)
For Internet access, I had to plug an Ethernet cable into my notebook computer. This wasn't as convenient as Wi-Fi, but connection speeds were faster and (at least in theory) more secure.
---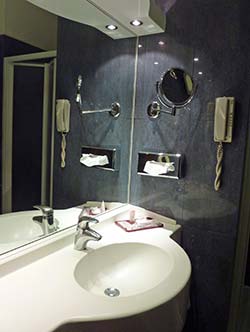 In contrast to the bedroom, my bathroom at the Hotel della Torre Argentina was ultramodern, with an integrated sink-countertop and plenty of dark marble. (You can see the folding door of the shower enclosure in the mirror.)
---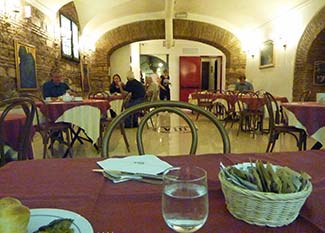 The Hotel della Torre Argentina's breakfast room is a series of vaulted cellars with brick walls and plenty of tables.
---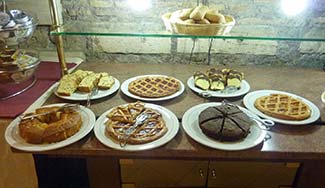 If you missed dessert the previous evening, you can make up for your loss by gorging on cakes and pastries at breakfast.
The Hotel della Torre Argentina's breakfast buffet also has breads, cereals, cheeses, cold cuts, yogurt, fruit, juices, and other items. Coffee is self-serve, from a machine similar to those on cruise ships. (It's adequate, but it can't compete with freshly-made espresso or cappuccino at a Roman bar.)
For booking information and discounted rates from Europe's No. 1 secure reservations site, see Booking.com's Hotel della Torre Argentina pages.
Back to: Hotel della Torre Argentina Review
---
---